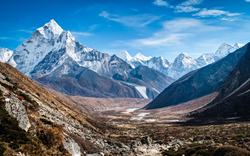 "Now, and for the rest of 2016, is one of the best and most meaningful times ever for travelers to visit Nepal," said Mike Rea, CEO of Tourism Cares
Canton, Mass (PRWEB) April 12, 2016
Nepal is open for business and travelers are invited to return to this desirable destination to experience the renewal, rebuilding and restoration of the tourism infrastructure of Nepal. Industry Non-Profit, Tourism Cares, has created a free map of "Meaningful Destinations" of Nepal to promote travel in 2016. The map is available at: http://www.tourismcares.org/nepal-map. .
This is good news for the traveling public as this provides an especially powerful window of opportunity for travelers to return to this beautiful mountain kingdom. The recovery from the earthquake is either complete or in full swing all across the country, creating unparalleled opportunities for learning, appreciation, engagement and giving back.
"Now, and for the rest of 2016, is one of the best and most meaningful times ever for travelers to visit Nepal," said Mike Rea, CEO of Tourism Cares, the charitable community of the travel and tourism industry. "Experience things today in Nepal that visitors won't be able to even a year or two from now
A number of factors contribute to this especially powerful window of opportunity for travelers and their families and friends, starting with the lifting on March 1 of a U.S. State Department travel advisory in place since the April 25, 2015 Gorkha earthquake that killed 8,617, injured 16,808 and displaced 2.8 million people. Other positive factors include new deals for travelers with tour operators and hotels, the upcoming peak travel seasons of spring and fall, a chance to enjoy Nepal's cultural and natural wonders with a lot more elbow room, etc.
Perhaps most importantly, traveling now to Nepal will contribute to the recovery. To illustrate the points of interest, Tourism Cares is releasing the first "Meaningful Travel Map" which is available free to help travelers plan their trip in a philanthropic way.
For all these reasons, now is an especially inspirational time to visit Nepal: to honor the hardship of the last year; to celebrate its resilience, inspiration and creativity in rebounding; and to experience the best of the old Nepal, and the best of the new, before the rest of the world does.
Learn how you can support the Nepal Recovery Fund and the Returning to New Heights campaign at http://www.tourismcares.org/disaster-recovery/. The Good Travels research study on philanthropic travel can be found at: http://www.TourismCares.org/GoodTravels.
About Tourism Cares
Tourism Cares, Inc., a US 501(c)(3) public charity, preserves and enriches the travel experience for future generations. Founded and supported by leading associations and companies in the travel industry, the Tourism Cares community invests its resources, talent and influence in three areas: supporting underappreciated and at-risk destinations and communities; investing in those entering the industry and professional development for emerging leaders; and by sharing travel corporate social responsibility knowledge and best practices so that individual businesses can best support their own causes. Learn more at http://www.TourismCares.org and @tourismcares.
Media Contact
Nancy Harrison
Adventure Media
nharrison(at)adventuremedianews(dot)com
307.421.4473