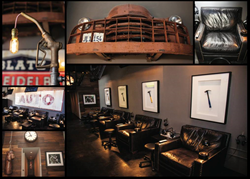 Scottsdale, Arizona (PRWEB) May 17, 2016
Hammer and Nails' explosive growth continues as they have just sold the rights to franchise in Arizona. The partners of "Nailed It in AZ LLC" saw the opportunity with this brand to be an industry leader and invested in the Arizona region. They intend to sell and open 12 franchises; 4 in Scottsdale, 4 in Phoenix, 1 in Tempe, and 3 in Chandler/Gilbert within 5 years. To date, Hammer & Nails has sold 135 Area Representative licenses in 7 states.
This brand is receiving national recognition due to the fact that franchising legend, John Leonesio, is at the helm as the CEO. In addition to founding Massage Envy, John Leonesio has developed other successful franchise systems such as Redline Athletics, The Joint…the chiropractic place, and Amazing Lash Studio.
Founder Michael Elliot opened the first Hammer & Nails in Los Angeles on iconic Melrose Avenue in 2013. His vision was to create a place where men can take care of their grooming without feeling uncomfortable or out-of-place. This first-to-market opportunity features a distinctive "man cave nirvana" atmosphere; a proven business model that includes pedicures, manicures, barbering, straight-razor shaves and a membership model; world-class franchise support; and an executive team led by one of the foremost experts in the health and wellness franchise field.
For further information on Arizona franchise opportunities, please contact:
Nailed It in AZ, LLC
Ryan Cole
(602) 551-7168
9260 E. Raintree Dr. Suite 100
Scottsdale, AZ 85260