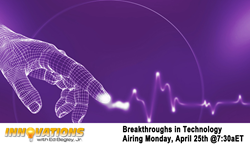 Jupiter, FL (PRWEB) April 22, 2016
DMG Productions announces the upcoming airing of Innovations with Ed Begley, Jr., scheduled to broadcast on Monday, April 25, 2016 at 7:30aET/7:30aPT via Discovery Channel.
In this episode, Innovations will explore Caterpillar Job Site Solutions. Spectators will see how Caterpillar leverages the best of the cutting edge technologies used in progressive industries, like mining, industrial services, and agriculture, and applies it to an operation.
Innovations will showcase WECO Sorting and Automation Solutions, a company that designs, manufactures, and services automation equipment for the agriculture industry. Viewers will be educated on the company's machines, which help farmers and processors provide high quality products faster and more economically.
Next, the Innovations team travels to Cedar City, Utah, to learn about Construction Monitor, a company dedicated to helping businesses succeed by providing targeted lead information to the building industry.
In addition, Innovations travels to Oostburg, Wisconsin for a behind-the-scenes look at Viking Masek Global Packaging Technologies. The company manufactures, sells, and services vertical form, fill, and seal packaging machines (VFFS) for the packaging industry. This particular segment will inform on how Viking Masek is currently conquering the food packaging industry.
"From manufacturing, packaging, to machinery and more, this episode is jam-packed with essential cutting-edge developments taking place in the industry," said John Ryff, Producer for the Innovations TV series. "We look forward to enlightening our audiences on this topic."
About Innovations & DMG Productions:
Innovations, hosted by award winning actor Ed Begley, Jr., is an information-based series geared toward educating the public on the latest breakthroughs in all areas of society. Featuring practical solutions and important issues facing consumers and professionals alike, Innovations focuses on cutting-edge advancements in everything from health and wellness to global business, renewable energy, and more.
DMG Productions (responsible for creating the Innovations show) includes personnel specialized in various fields from agriculture to medicine, independent films to regional news and more. Our field producers work closely with experts in the field to develop stories. This powerful force enables us to consistently produce commercial-free, educational programming that both viewers and networks depend on.
For more information visit: http://www.InnovationsTelevision.com or contact John Ryff at: (866) 496-4065 x 813 or via email at: John(at)innovationstelevision(dot)com.