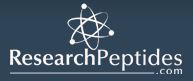 Los Angeles, CA (PRWEB) April 11, 2016
Interestingly, a new online discussion forum, Research Peptides, has taken a successful initiative to make this easier than never before. It is doing so by allowing experts and users to share all possible information about peptides, thus rendering a comprehensive knowledge base on the same.
Steroids have an infamous reputation in the health world for their assortment of critical side effects. Thus, it is not surprising to have experts researching on different steroid alternatives, which are also what bodybuilders and different patients are looking for. The new forum, Research Peptides, gives all possible information on such alternatives and allows sharing views on the same. This means its users can now find anything about such alternatives at one place.
Peptides are chains of amino acid that have a deeply benefiting impact on the human body. This automatically increases the curiosity among the researchers to dig out more about these steroid alternatives in terms of other unknown benefits, their limits, and cons, if any. These researchers can now share their approaches, experiments, and hypotheses on this new open discussion forum.
This site is actually more than a forum where there are not only peptide profiles to help interested juniors in getting familiar with the latest research but also threads, blogs, and articles on peptide guides to let other users know about these amino acids from inside out.
For the beginners who simply wish to know, the Peptide Profiles section is worth checking out. There are more than 20 peptides, each with its own profile consisting of a structural diagram and information about working, usage, and safety concerns. For those who are really aware of peptides are and wish to share experiences or research outcomes, there are numerous ongoing threads for commenting on the same.
With so many resources, merged into one single site, the goal is to spread the awareness about different peptides quickly without hunting for it here and there or spending some more hours on research that might have been already done. Well, this is perhaps the most commendable initiative by the forum starter who also did not lag behind in launching a peptide calculator and synthesis guide on the site.
According to a spokesperson, "Our open discussion forum is a dynamically active community wherein an increasing number of members tend to contribute immediately and easily. We strive to remove the gap of knowledge between the well established and new members by offering different tools such as threads, articles, and peptide calculator. This will help them achieve an equal amount of knowledge."
About Research Peptides
Research Peptides is a guide as well as an open discussion forum. It aims to allow sharing the know-how on old and new legal steroid alternatives such as growth hormones, peptide and sarms. For more information, visit https://ResearchPeptides.com