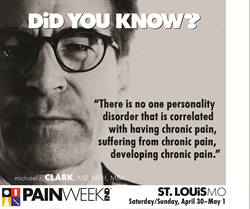 We need to be armed with a thorough understanding of what is available...to allow us to treat these [pain] patients the best possible way. We owe this to our patients
Montclair, NJ (PRWEB) April 12, 2016
Now in its 6th year, the PAINWeekEnd regional conferences are a huge success. Attendees are saying, "Excellent speakers + presentations. I was ready to just put in my time to get my CEs and endure a necessary topic. Instead I enjoyed a variety of useful presentations given by experts who were willing to make their specialty applicable to those of us in family practice. I was very impressed by the conference and would definitely recommend it to others."
On April 30 and May 1, PAINWeekEnd St. Louis will provide busy clinicians and allied healthcare practitioners with relevant, practical instruction in the management of chronic pain. "Pain is one of the most common reasons for a patient to see a practitioner," said Michael Bottros, MD. "We need to be armed with a thorough understanding of what is available, based on the evidence, to allow us to treat these patients the best possible way. We owe this to our patients." Dr. Bottros, who is an Assistant Professor of Anesthesiology at the Washington University School of Medicine, and Director of the Acute Pain Service at Barnes-Jewish Hospital in St. Louis, will act as moderator at PAINWeekEnd St. Louis.
The conference, offering continuing medical/legal and clinical pain education, will take place at the Marriott St. Louis Grand Hotel, 800 Washington Avenue.
The release of the new CDC Guidelines for Prescribing Opioids for Chronic Pain continues to engender debate among practitioners. Pain is a complex and fragmented area of clinical medicine, and the courses presented at PAINWeekEnd will touch upon these and other timely issues—topics include chronic pain assessment; when acute pain becomes chronic; assessing and managing acute and chronic low back pain; the obscurity of opioids; complex regional pain syndromes, nonopioid analgesics: antidepressants, adjuvant therapies, and muscle relaxants; regional pain syndromes: hip/knee and neck/back; small fiber neuropathies; decreasing and managing medication aberrant behavior; medical marijuana and the treatment of central nervous system disorders; and chronic pain coping skills. In addition, there will be commercially supported activities addressing a range of product, disease state, and medical information topics.
By attending PAINWeekEnd St. Louis, participants can receive 12.0 CE/CME credit hours towards Missouri's relicensing requirement of 50 CME hours every 2 years.
To see the complete agenda and more information about this or other PAINWeekEnd Regional Conferences, go to painweekend.org. The online registration fee for PAINWeekEnd St. Louis is $199. PAINWeekEnd registrants are further offered the opportunity to register for the 2016 PAINWeek National Conference, September 6-10, in Las Vegas, for $199 off the current online published price.
PAINWeekEnd is provided by Global Education Group.