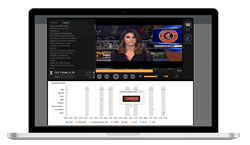 With this new feature set, iQ media surpasses traditional media monitoring to elevate earned media analysis to a level never before reached.
Conshohocken, PA (PRWEB) April 12, 2016
Leading media analytics provider iQ media today announced brand new earned media analytics for PR professionals and first-to-market logo detection software for television.
With this new feature set, iQ media surpasses traditional media monitoring to elevate earned media analysis to a level never before reached. In near-real time, the latest addition to the company's product suite isolates earned content from paid, distinctly tracking and measuring when audiences hear, read or see brands' cross-channel media coverage. iQ media is also introducing logo recognition that detects when consumers see brands' logos during paid or earned television placements.
Up until this point, existing technology has not adequately met the needs of PR professionals seeking to prove the value of their earned media impact. Traditional media monitoring platforms have produced inaccurate and inflated data that often does not correlate to true reach or impact. iQ media's unmatched analytics tool forgoes outdated legacy monitoring metrics, delivering full visibility and beneficial insights into earned efforts.
"PR professionals pride themselves on the art of the deal…whether it is a simple placement for a client or an integrated play to promote a product or brand. iQ media now gives us the ability to accurately report the value of our earned successes," said Sean-Patrick Hillman, Executive Vice President of Public Relations agency and iQ media client Corbin-Hillman Communications.
The new software provides automatic and precise data that directly attributes consumer engagement and behavior to earned content. It identifies audience demographics by age, gender and location, while revealing campaign effectiveness across each channel. With in depth brand-to-brand competitive analysis, PR teams can compare their earned impacts with their competitors' to evaluate and strengthen their own earned media presence.
The goal of iQ media's new product is to enable PR professionals to recognize the tremendous influence their efforts have on brands' bottom lines. The analytics provider strives to broaden PR's focus from solely pitching journalists and gaining publicity for brands to truly engaging with consumers. By leveraging earned media's power and credibility, PR teams ultimately can drive just as much revenue for their organizations as their marketing and advertising counterparts. For the first time, PR professionals have access to accurate and valuable data, empowering them to make more strategic and informed decisions.
"The media has evolved. How people consume the media has evolved," said Kye Strance, CEO of iQ media. "The time to concurrently evolve brand-tracking tools is now. Our new product propels our strategic vision forward to continue to bring impactful and exclusive solutions to the market."
In conjunction with the new product features, iQ media also rolled out a redesigned website that highlights the new functionality and is hosting a live webinar to demonstrate the new technology.
About iQ media
iQ media helps PR professionals better understand how consumers engage with brands as a result of what is seen and heard on television. The media analytics provider reveals paid and earned media insights that bridge gaps between traditional and digital media. To learn more, please visit http://www.iq.media.