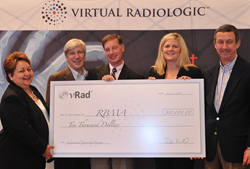 These conferences are truly exceptional educational opportunities, both for experienced radiology leaders and up-and-coming radiology business professionals.
Fairfax, VA (PRWEB) April 13, 2016
As part of the Radiology Business Management Association (RBMA) mission to advance radiology management education and foster the next generation of business leaders, the RBMA is pleased to announce the winners of the 2016 Bob Luther Emerging Leader Travel Scholarship and three of the six vRad Education Scholarships.
Both scholarship opportunities help RBMA members attend RBMA national conferences at a stage in their careers when they might not otherwise be able to participate. The Bob Luther Emerging Leader Travel Scholarship honors former RBMA president and dedicated member Bob Luther. Each year, it covers up to $1,000 in RBMA conference-related travel expenses for an RBMA member who is a first time practice manager or who would like to become a practice manager. The vRad Education Scholarships are six $1,500 scholarships that are awarded to RBMA members who have not attended an RBMA conference in the past three years.Virtual Radiologic (vRad), a technology-enabled national radiology practice, funds these scholarships. Four of the six scholarships were awarded this spring and the remaining two will be awarded in the fall.
The RBMA national conferences where the scholarships may be used are the RBMA Radiology Summit and the RBMA Fall Educational Conference. This year, the Radiology Summit will be held from April 24 to 27 at the Broadmoor resort in Colorado Spring, Colorado. The Fall Education Conference will be held from Sept. 25 to 27 at the Hyatt Regency in New Orleans.
"These conferences are truly exceptional educational opportunities, both for experienced radiology leaders and up-and-coming radiology business professionals," says Michael R. Mabry, executive director of the RBMA. "Through these scholarships, we help ensure that members who wish to attend but may be unable to cover the full cost of travel, hotel and registration fees have a chance to enjoy this important RBMA membership benefit."
Kyle Young, administrator for Big Sky Diagnostic Imaging of Billings, an independent outpatient imaging center in Montana, is the winner of the 2016 Bob Luther Emerging Leader Travel Scholarship. Young has been with Big Sky for nine years serving in varying capacities including provider relations, marketing, service modeling and strategic development. He is currently pursuing an MBA from the University of Montana and is expected to graduate in the spring of 2017. He lives in Billings and is married with two young daughters.
The vRad Educational Scholarship winners who will attend the RBMA Radiology Summit are:

Stephanie Dybul, MBA, RT(R)(VI), CIRCC
Tiffani A. Mauro, MAS, CMPE
Dori Smeltzer
Dybul is the division administrator for vascular and interventional radiology at The Medical College of Wisconsin in Milwaukee. She began her career as an interventional radiology technologist in 2004 and over the years began focusing on coding and billing aspects of the interventional radiology department, eventually evolving to a fully administrative role. Stephanie recently completed a MBA from the University of Wisconsin in Milwaukee and also holds a BS in radiologic technology from Marian University. Stephanie currently serves on RBMA and Society of Interventional Radiology committees, and is on her third term with the RBMA's coding subcommittee. She has also lectured on coding and process improvement for interventional departments.
Mauro is a healthcare management professional with nearly 20 years of industry experience. She has served as an executive in community health, managed service organization, private practice and most recently imaging, disciplines. In addition to various executive level certifications, Mauro holds an MAS in leadership of healthcare organizations from University of California, San Diego and a BA in communications/public relations from Colorado State University, Pueblo.
Smeltzer has worked in healthcare for over 15 years with management positions in diagnostic imaging, ambulatory surgery centers, family practice and surgical practice. She is currently the director of ancillary services for The Iowa Clinic, based in Des Moines, and oversees medical imaging, durable medical equipment, sleep, laboratory and clinical research for the largest physician-owned healthcare organization in the state of Iowa.
(The fourth spring vRad Educational Scholarship Winner, Geralyn Minshew, attended the Building Better Radiology Marketing Programs conference in March.)
About RBMA
The Radiology Business Management Association is a national not-for-profit association providing members with applied business information and intelligence applicable in any radiology setting. The RBMA has approximately 2,300 members involved in various management capacities in private practices, academic radiology groups, imaging centers and hospitals. The RBMA continues to be recognized as the leader for radiology-specific educational programs, products and services, publications and data.
More information about RBMA scholarships, including how to apply for 2017 awards, is available at http://www.rbma.org/Scholarships/