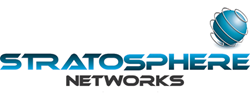 This is a great opportunity for us to connect with business owners who could benefit from our services.
Chicago (PRWEB) April 19, 2016
Stratosphere Networks, a Chicago-based IT managed service provider, will participate as an exhibitor in Chicago's Small Business Expo on Thursday, April 21 at the UIC Forum.
The conference and trade show – which will last from 9:30 a.m. to 5:30 p.m. – travels to the nation's top cities for small businesses. The show aims to unite experts and thought leaders for an event that includes over 20 free workshops and programs. Additionally, the Expo will feature more than 100 interactive booths, demos and exhibits. More than 4,000 registered attendees from the Chicago area are expected to participate in order to network with peers, shop for business resources, develop leads, and more.
Admission is free, and Expo workshops will cover topics such as employee benefit plans, credit and financing, social media/online marketing, strategies for boosting productivity and revenue, cloud computing, mentoring, and retirement plans, among others. Powerteam International CEO and founder Bill Walsh will headline the event with his presentation "Success by Design – The 7 Keys to Build a Mega-Successful Business."
"We're looking forward to taking part in the Small Business Expo," said Steve Melchiorre, CEO of Stratosphere Networks. "This is a great opportunity for us to connect with business owners who could benefit from our services."
For more information about the Expo and to register for free, visit the Chicago event page.
About Stratosphere Networks
Stratosphere Networks is a Chicago-based multifaceted IT managed service provider focused on delivering comprehensive technology services and solutions to meet and exceed the always-changing, diverse business needs. Since 2003, Stratosphere Networks has grown exponentially and continues to provide the best-in-class and cost-effective solutions to businesses in all industries. Visit http://www.stratospherenetworks.com for more information.
About Small Business Expo
SMALL BUSINESS EXPO® is the nation's largest small business networking and learning event, and an Inc. 5000 company. Every year, over 65,000 small business professionals and entrepreneurs across the country attend the SMALL BUSINESS EXPO in 14 MAJOR US Markets to take their business to the next level. The show's owner, Film, Stage & ShowBiz Expo LLC. was founded in 2008 by Zachary Lezberg. The company's headquarters are located at 555 8th AVE Suite 909 New York, NY 10018. For more information, visit http://www.thesmallbusinessexpo.com, call (212) 404-2345, or email: info(at)thesmallbusinessexpo.com.
For more information contact:
Lori Bernardino
847-440-8608
LoriB(at)stratospherenetworks.com