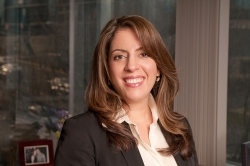 Long Island, NY (PRWEB) April 12, 2016
Wisselman, Harounian & Associates, P.C. is pleased to announce that law partner Jacqueline Harounian has been awarded the New York's Women Leaders in the Law Award for 2016. This is the second year in a row that Ms. Harounian has been chosen for this honor, which will be featured in New York Magazine.
Consistently recognized as one of the most accomplished, trusted, and skilled matrimonial law attorneys in the state, Ms. Harounian is well known for the many contributions she has made to the practice of law in New York. A partner at the firm since 2006, she leads a successful team of eight lawyers with a history of success in trial advocacy.
In addition to her practice, Ms. Harounian is also a frequently sought lecturer and has authored a number of articles on legal topics. She is an adjunct professor at Hofstra Law School and maintains membership in a variety of professional societies and non-profit organizations. She has won numerous awards for her exceptional advocacy and commitment to her clients, including the Hofstra University School of Law "Top Women in Law" award (2016), the HIA-LI "Those Who Make a Difference Award," the NCBA "Access to Justice" Pro Bono Award, and many more. In recognition of her outstanding contributions to the legal field, Ms. Harounian has received a "10.0-Superb" rating on Avvo, has consistently been listed in Super Lawyers® for the New York Metro area, and has an AV®Preeminent™ Rating with Martindale-Hubbell®, the highest rating possible by this trusted service.
Ms. Harounian truly has a heart for those she serves and stops at nothing to deliver the highest level of service possible not just to her clients, but to her community as well. Wisselman, Harounian & Associates are extremely proud of her many accomplishments and look forward to many more years of success.
Wisselman, Harounian & Associates, P.C. is one of the most established, trusted, and highly-rated divorce and family law firms in Long Island. We handle the full gamut of divorce and family law-related cases, including pre- and postnuptial agreements, child custody and visitation, grandparents' rights, Jewish get, same sex marriage, domestic violence, and more. Wisselman, Harounian & Associates will now provide a 15% discount off retainers and hourly rates to all Civil Servant workers, including Fire, Police related services, EMS and EMT, teachers of NY State, as well as Military members and Veterans. For more information on the firm and to schedule a free consultation, please visit http://www.lawjaw.com.