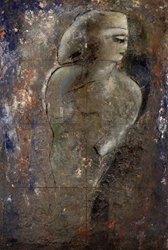 The answers to our greatest questions about life and death, fulfillment and peace, lie behind the masks we see and wear every day.
New York, NY (PRWEB) May 05, 2016
The exhibition is named for a series of new, vaguely figurative paintings (Shroud I, II and III), depicting masks in three ephemeral states, hidden in tumultuous seas of layered pigments. "These new paintings are emblematic of mystical themes I've explored throughout my career," said Jamali. "Masks hide the answers to life's important questions, but they are useful for they challenge us to pose the questions of life. The answers to our greatest questions about life and death, fulfillment and peace, lie behind the masks we see and wear everyday."
Included in the exhibition are new paintings and a number of rare, early works never before exhibited to the public. Featured paintings include:

The Shroud I, one of three, haunting new paintings with fluid, textured surfaces of natural, ground pigments.
Odysseus, a large figurative masterpiece dating from 1985, named after the Greek king of Ithaca and hero of Homer's poem, The Odyssey.
Jameel, a mask painted in 2004, representing the duality of light and dark and the yin and yang of Chinese philosophy.
Parnassus, a topographical abstraction also painted in 2004, crafted from shimmering silver and blue pigments, inspired by Mount Parnassus, the mountain of limestone towering over the city of Delphi.
This first exhibition of fresco tempera paintings in almost a decade prompts us to recall Donald Kuspit's stirring description of the style, as published in his essay, "Jamali's Surface" (Jamali Mystical Expressionism / Paintings, Rizzoli, Milan, 1997):
"Jamali is a mystic, and I think the surface of his paintings are emblematic of merger with the divine. That is, they represent the state of selflessness necessary to experience a sense of sacredness. One is in effect invited to lose oneself in the painting's surface, thus replicating the ecstatic state in which it was made. This involves what Jamali calls his Fresco Tempera technique where ground pigments are applied to a prepared canvas, which Jamali dances on. The result is a highly textured, intricate surface, simultaneously esoteric and erotic, intimate yet peculiarly forbidding and inscrutable. Jamali's surface is rich with implications and affinities."
"Like the cave painters, Jamali's paintings show the same ambition to make contact with primordial being -- to experience the sheer urgency of being. Thus they return us to perhaps the most archaic rationale for art, the rationale evident in the cave paintings, the rationale that has become explicit in modernist abstract painting: to make marks and gestures and images, not simply in order to show that we have the intelligence to do so, nor to record our presence for posterity (a dubious immortality, since anonymity comes with it), but rather out of wonder at being. Jamali makes art for the deepest of reasons: to try to grasp what it means to be by creating a new being."
To make a reservation for the exhibition opening, please click here, call the Jamali Gallery at 212-966-3335, or email the gallery at info(at)jamalinycgallery.com.
About Jamali and Jamali NYC Gallery, LLC
Jamali is known as the founder of Mystical Expressionism, as heralded by the eminent scholar, Donald Kuspit. In a career spanning four decades, Jamali has become the most collected American artist for original paintings. His patrons include heads of state, captains of industry, and world-renowned figures in the media and performing arts. The Jamali Gallery exhibits Jamali's newest works of art and selected artworks spanning his forty-year career. The gallery is located in the heart of SoHo at 413 West Broadway, between Spring and Prince streets, and is open every day from 10 AM to 7 PM. To learn more we invite you to visit JamaliNYCGallery.com.