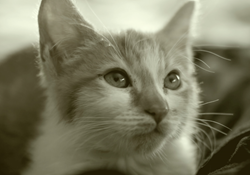 Oakland, CA (PRWEB) April 12, 2016
Back at it again! Last year, the East Bay SPCA created a video parody of Bruno Mars' Uptown Funk called OAKTOWN PUPS viewed over 1.7 million times on YouTube. This year, the East Bay SPCA has channeled another hit, Adele's Hello, into a sweet cat adoption video dubbed, MEOW. The video features kittens daydreaming about finding their forever homes.
The East Bay SPCA video promotes cat adoption while telling a silly, yet touching story of a little girl, woman and older gentleman's visit to the East Bay SPCA in hopes of adopting a kitten. The kittens promise their potential adopters that they will do whatever it takes to be the best pets ever! Every cute kitten that appears in the video was adopted from the East Bay SPCA.
To view MEOW and help us go viral, visit You Tube: https://youtu.be/7O52wPSj_LE
About the East Bay SPCA
The East Bay SPCA is a 501(c) 3 nonprofit committed to the welfare of cats and dogs in Alameda and Contra Costa Counties. Established in 1874, the East Bay SPCA is one of the nation's oldest independent humane organizations and receives no funding from local, state or federal governments, or any national animal welfare organization. The mission of the East Bay SPCA is to eliminate animal cruelty, neglect and overpopulation by providing programs and education that support people and companion animals. Operating three facilities in Oakland and Dublin, the organization offers adoption centers, spay/neuter surgery centers and companion animal behavior and training classes. The AHAA accredited, full-service Theodore B. Travers Family Veterinary Clinic, is located on the Oakland campus of the East Bay SPCA. For more information visit eastbayspca.org.
# # #