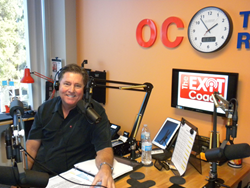 In what has been characterized as the greatest transfer of wealth in history, millions of America's business owners are coming to the last phase of their journey, and an alarming percentage are ill-prepared to execute a smart exit strategy
Orange, Calif. (PRWEB) April 13, 2016
Ending a business can be just as hard as starting one, and for millions of business owners and their families, this phase is even more crucial. To address this critical issue Bill Black – a certified exit planner, author and host of Exit Coach Radio– is taking his mission to the public airwaves with a new program to air on LA Angels Radio AM 830 during the baseball season at 10 a.m. and 6 p.m. Sundays.
"Exit Coach Radio" is an extension of Black's highly successful podcast of the same name. It tackles the most critical aspects of business planning and offers actionable advice to business owners who need to make sure their entire company – as well as their employees and loved ones – will be protected once they leave. Interviews from all of Black's guests are archived and can be accessed on ExitCoachRadio.com.
"In what has been characterized as the greatest transfer of wealth in history, millions of America's business owners are coming to the last phase of their journey, and an alarming percentage are ill-prepared to execute a smart exit strategy," Black said. "This issue, which affects millions of Baby Boomers around the nation, is nothing short of a crisis for the business owners involved and their families, who have enormous sums of hard-earned wealth at risk due to their focus on maintaining and growing their businesses. Surprisingly little has been done to educate these outgoing business leaders, and few resources are available."
One interview scheduled for April 17 features special guest John Brown, the "founding father" of exit planning. An attorney by trade, Brown started the Business Enterprise Institute (BEI) in Denver over 15 years ago, with the goal of training advisors to work together as a team to help business owners preserve value, minimize taxes and time the sale of their clients' companies.
"Ultimately, every business owner will exit their business – voluntarily or otherwise," Brown said.
Thirty years ago, Black began working one-on-one with business owners to help them build sustainable businesses that would survive their retirement through motivating and retaining key employees and implementing organized processes and systems.
Over the past 2 years, through his Exit Coach Radio podcast, Black has interviewed 1,000 professional advisors from fields such as law, accounting, banking, insurance and marketing for their best tips, ideas and precautions for Business Owners. All of those interviews have been archived and indexed into 12 topic categories in an audio library at ExitCoachRadio.com.
One year ago, Black became even more passionate about his mission when a dear friend passed away suddenly and unexpectedly, just prior to planning his retirement. The tragedy left the widow with a $7 million once-thriving construction company that almost bankrupted her family due to her husband's sudden death and lack of planning. Seeking to prevent similar situations, Black has created a multi-media organization designed to raise awareness of the pitfalls caused by lack of planning and to present ideas and resources that anyone can access at no charge.
About Bill Black
Bill Black, "The Exit Coach," is a certified exit planner endorsed by the Business Enterprise Institute and the Exit Planning Institute. On his Internet-based Exit Coach Radio show, accessed by more than 40,000 listeners each month, Black has interviewed 1,000 professional advisors from disciplines such as law, accounting, insurance and banking for their best tips, ideas and precautions for business owners. Black also hosts the Exit Coach Radio show on the LA Angels radio station, KLAA 830AM Los Angeles, with two shows, airing Sundays at 10 a.m. and 6 p.m. All shows are recorded and accessible via Smartphone or Computer at http://www.exitcoachradio.com. Black has authored several books, including "Business Continuity: Five Steps To Protect Your Family," now available as a free download at http://exitcoachradio.com/5steps. Black speaks regularly to Business and Professional groups, in addition to keynotes and workshops at regional and national association meetings. For more information visit http://www.exitcoachradio.com and follow Black on Facebook and Twitter.