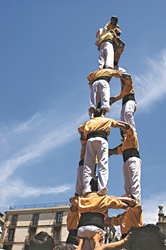 Seattle, WA (PRWEB) April 12, 2016
Small ship luxury cruise line Windstar Cruises brings guests closer to European culture with 11 new Private Events in the region for 2016.
Launched in 2015, every Windstar sailing features a spectacular onshore Private Event. These events are exclusive and complimentary for Windstar guests, allowing for an in-depth and authentic local experience that complements the voyage, destination, and local culture. Windstar is increasing guest opportunities for these immersive local experiences through six new Private Events in the Mediterranean and five new Private Events in Northern Europe in 2016, with a total of 20 unique Private Events in the region. The Private Events program stemmed from the cruise line's Grand Prix of Monaco sailing, now turned themed cruise, where guests receive a special Grand Prix themed cocktail reception and dinner as well as highly sought after K Section seats for Grand Prix of Monaco for Saturday's qualifying race and Sunday's final.
New in the Mediterranean on the 8-day Treasures of Southern Spain & Morocco itinerary aboard the Wind Star and Wind Surf, a centuries-old tradition comes alive during the Giants, Big-Heads & Human Towers Private Event in Tarragona, Spain. This specially curated Windstar event is held at the spectacular Roman Amphitheater of Tarragona, built in the first century A.D. and an UNESCO World Heritage Site. The event begins with the building of a castell, an incredible tower of people standing one on top of the other, often ranging a story or more high. This festival tradition was first documented in 1712 and is now on the UNESCO Intangible Cultural Heritage of Humanity List. Windstar guests watch as the castell is built and dismantled. Throughout the Private Event guests sip sangria and nosh on Catalan tapas, including world-famous Iberian ham, all the while entertained by outlandish Catalan Giants (larger than life papier-maché figures), and Big-Heads (festival figures with huge heads that are worn on the head and shoulders of a normal sized person).
New in Northern Europe on the 11-day Lands of the Midnight Sun itinerary aboard the Star Legend is Molde: The Magnificent Caves Bergtatt Private Event. The day begins with a scenic drive north to the marble caves of Bergtatt, where guests take a boat deep into the glistening caves, traversing an underground lake aboard a comfortable barge. These caves are not navigated in total darkness – light from elegant chandeliers installed within the caverns reflects on the crystal clear water to illuminate the journey. After leaving the boats and entering into the main hall, guests enjoy traditional Norwegian fare like lefse, a soft Norwegian flatbread made with potatoes, flour, butter, and milk, and drink sparkling wine while being entertained by local singers and dancers. Also sure to delight in Northern Europe is the St. Petersburg: Artistry in Ballet at Musical Comedy Theatre on the Baltic Delights itinerary during which Windstar guests are treated to an exclusive ballet performance in the ballet capitol of Russia at the Musical Comedy Theatre.
Windstar's Private Event program has given guests the opportunity to experience a unique cultural tradition within their chosen destination and has quickly become a brand differentiator in the cruise industry. Current guest favorites include Kusadasi: Evening in Ephesus, where guests enjoy a private dining experience in the Library of Ephesus, an UNESCO World Heritage Site, accompanied by a trio from the Aegean Chamber Orchestra (Greek Isles & Turkish Delights); and Culloden: Fields of the Bonnie Prince, where guests are transported back in time to the moor where Bonnie Prince Charlie and the Highlanders lost to the Duke of Cumberland for an exclusive after-hours tour, accompanied by a Beating Retreat – a traditional military ceremony from 16th century England (Gaelic Explorers).
Windstar's nine other new European Private Events include:

Bergen: Romantic Inspiration - Lands of the Midnight Sun
Seydisfjordur: Natural Splendor & Quirky Charm - Around Iceland
St. Petersburg: Artistry in Ballet at Musical Comedy Theatre - Baltic Delights
Porto: Unique Riverboat Cruising with Songs & Spirits of Portugal - Best of Europe's West Coast
Agadir: Moroccan Meal & Entertainment in a Desert Tent - Morocco & The Canary Islands
Dubrovnik: Spectacular View, Wine Tasting & Folklore Show at Park Orsula - Classic Italy & Dalmatian Coast
Tangier: Mystery, Romance and Espionage - Treasures of Southern Spain & Morocco
Katakolon: Magna Grecia - The Spirit of Greece Itself - Venetian Passages
Portofino: Beloved Villa Durazzo, Pesto Demo & Tastings -Glitter & Glam of the Rivieras
For a complete list of Windstar's Private Events and their respective sailings and 2016 dates, please visit http://www.windstarcruises.com/Why-Windstar/Private-Events/.
For more information, including rates and itineraries, contact a travel professional or call Windstar at 800-258-7245, or visit http://www.windstarcruises.com.
Editor's Note: Download imagery of Windstar's Private Events here: https://windstarcruises.webdamdb.com/lightbox/downloadlightboxqueue.php?method=getfile&k=TpA0fPE3txRjSnmH&source=4
About Windstar Cruises
Windstar Cruises operates a six ship fleet of small luxury sail and power yachts visiting 150 ports throughout Northern Europe, the Mediterranean, the Caribbean, Costa Rica, the Panama Canal, and sailing year-round in Tahiti and the South Pacific. The small cruise ships are known for an intimate yacht-style experience, unique itineraries and exclusive access to the world's best small ports and hidden harbors. Windstar's fleet is the market leader in small ship cruising with a total of 1,242 passenger berths. All ships in the fleet have recently undergone multi-million dollar transformations to embody casually elegant yacht travel. The power yachts Star Breeze, Star Legend and Star Pride serve 212 guests in all suite accommodations; while sailing yachts Wind Spirit and Wind Star sail with up to 148 guests, and Wind Surf serves 310 guests. The yachts cruise to 50 nations worldwide. Windstar Cruises is a part of Xanterra Parks & Resorts®, which is known for its "Legendary Hospitality with a Softer Footprint." Xanterra's entities also include lodges, restaurants, tours and activities in national and state parks, as well as resorts, railway and tour companies.
###