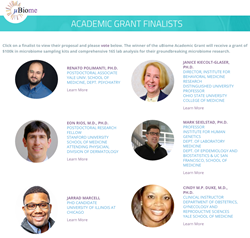 Increasing access to this technology will advance the science of the human microbiome.
San Francisco, CA (PRWEB) April 12, 2016
uBiome, the leading microbial genomics company, announces 6 finalists for the uBiome Microbiome Research Grant Competition and officially opens public voting to all citizen scientists around the world.
The grant winner will receive up to $100,000 of microbiome sampling kits and full 16S laboratory analysis. With this grant, uBiome seeks to fast track an innovative study that has potential to affect human health and well-being. The winner will also have access to a customized dashboard, enabling them to use interactive tools to view and compare results, as well as access to download raw data to analyze in their own labs.
To help shape the future of microbiome research, citizen scientists can learn about each project and vote by visiting: http://ubiome.com/pages/academic-grant
Numerous applicants responded to uBiome's call for trailblazing researchers with big ideas in the microbiome field last fall. Six finalists, chosen by uBiome's core scientific team, now present their proposed research projects to the global community of citizen scientists, keeping with uBiome's mission to promote the public's involvement in groundbreaking science and medical advancements. uBiome is also calling upon its Clinical Microbiome Consortium and Academic Consortium to weigh in on the finalists.
Finalists include:
Cindy Duke, MD, PhD, Clinical Instructor at the Yale School of Medicine, who seeks to determine whether there is an association between ovulation induction cycle medication protocol and the vaginal microbiome in women undergoing assisted reproduction and identify any changes in the vaginal microbiome amongst patients of different demographic profiles.
Jarrad T. Hampton-Marcell, PhD candidate at the University of Illinois at Chicago, who seeks to understand how the gut microbiome can influence athletic performance via the mechanisms driving the interaction between microbial metabolism and host response.
Janice Kiecolt-Glaser, PhD, Director of Institute for Behavioral Medicine Research and Professor at the Ohio State University College of Medicine, who plans to explore the correlation between marital stress and the gut microbiome.
Renato Polimanti, PhD, Postdoctoral Associate at the Yale University School of Medicine, seeks to reveal presently unknown interactions between host and oral microbiome in the context of smoking and drinking behaviors.
Eon Rios, MD/PhD, Postdoctoral Research Fellow at the Stanford University School of Medicine and Attending Physician at the Santa Clara Valley Medical School, who will investigate the longitudinal effects of long-term oral antibiotics on the gut microbiome.
Mark Seielstad, PhD, Professor at the UCSF School of Medicine, who seeks to examine the effects of the environment and diet on microbiome composition and type 2 diabetes risk in genetically similar populations living in radically different environments.
Project finalists share their innovative microbiome project proposals online via video presentations and brief project descriptions. Winners will be announced in May 2016.
uBiome is the world's leading microbial genomics company. It uses next generation high-throughput DNA sequencing technology to generate detailed analysis of the human microbiome, the ecosystem of trillions of bacteria which populate the human body, both in and on it. Bacteria in the gut play a vital part in health, supporting digestion and the synthesis of vitamins. However pathogenic bacteria are associated with a range of conditions, some of them serious, such as celiac disease, inflammatory bowel disease - including both Crohn's disease and ulcerative colitis, irritable bowel syndrome, esophageal reflux and esophageal cancer, Clostridium difficile infection, colorectal cancer, and many others.
Citizen science is scientific work undertaken by non-specialists, often in collaboration with professional scientists. uBiome microbiome tests enable citizen scientists to explore their personal microbiome, track changes, and test hypotheses. uBiome also actively seeks partnerships with innovative researchers and organizations including the recently partnership with the Center for Disease Control and Prevention to study hospital-associated infections and a joint study with OpenBiome to study the microbiome of patients undergoing Fecal Microbiota Transplantation (FMT) as a treatment for Clostridium difficile infections. This Microbiome Research Grant Competition was established to give access to a broader group of researchers working to advance the study of the microbiome.
Dr. Zachary Apte, CTO and Co-founder of uBiome says: "uBiome aims to involve citizen scientists in every stage of the microbiome sequencing process. Increasing access to this technology will advance the science of the human microbiome."
uBiome was launched in 2012 by scientists and technologists educated at Stanford and UCSF after a crowdfunding campaign raised over $350,000 from citizen scientists, roughly triple its initial goal. The company is now funded by Andreessen Horowitz, Y Combinator, and other leading investors.
uBiome's mission is to use big data to understand the human microbiome by giving users the power to learn about their bodies, perform experiments, and see how current research studies apply to them.
Contact:
Julie Taylor
julie(at)ubiome.com
(415) 212-9214