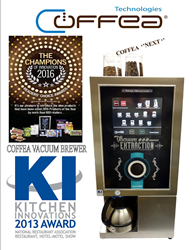 Readers' Choice Awards 2016: The Champions of Innovation
Chicago, Ilinois (PRWEB) April 13, 2016
Unparalleled coffee brewing innovation continues from Coffea Technologies, as new updates to software and brewing system configuration bring state of the art features to our patented syphon/vacuum pot inspired "limitless vacuum extraction."
Coffea focuses exclusively on brewing America's most loved beverage, and as a result, Coffea Technologies brews the purest form of American style coffee - in any beverage size desired.
In addition to brewing coffee beyond compare, Coffea will introduce new features and configurations at NAMA OneShow in Chicago , April 13-15 2016 - HHD booth#1025
The revolutionary developments to be unveiled within Coffea's trademark small footprint, stainless steel design include:

Fully customizable brewing profiles - SCAA Gold Cup Standard
Easy to use and personalize full video and audio on the10.4'' touch screen
3 bean & 3 soluble canisters allowing for the largest number of beverage options available in the industry.
WIFI connectivity
Barcode receipt printer
Widely recognized as the ideal way to brew coffee, syphon has had a recent resurgence as the "go to method" for "baristi", roasters and coffee lovers everywhere because of outstanding flavour in the cup.
The syphon (vacuum pot) method, originally invented in 1840 (50 years before the invention of the espresso), sweetly coaxes even the most subtle flavour notes found in coffee beans.
Brewing coffee using vacuum extraction (syphon) allows for all the variables that make an outstanding cup to be controlled.
Until now, this method was laborious and time consuming. Patented Technology invented by Alexandar Radosav of Coffea Technologies now makes this exceptional flavour available in under a minute with the push of a button.
Coffea Technologies is the inventor and exclusive patent holder of the limitless vacuum extraction brewing method. Manufactured in North America, Coffea designs and distributes commercial brewing equipment for the Hospitality, Restaurant and OCS markets around the world.
Visit us at: NAMA OneShow in Chicago, SCAA Show in Atlanta and at NRA Show in Chicago