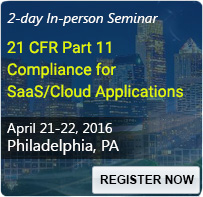 21 CFR Part 11 Compliance for SaaS/Cloud Applications
Philadelphia Marriott Downtown, PA (PRWEB) April 13, 2016
ComplianceOnline, the leading governance, risk and compliance advisory network with over 500 experts in various regulatory subjects, today announced a seminar on 21 CFR Part 11 Compliance for SaaS/Cloud Applications. The two-day seminar led by FDA Compliance Specialist David Nettleton will be held on April 21st and 22nd, 2016, in Philadelphia, PA.
The seminar will focus on the latest computer system industry standards for data security, data transfer, audit trails, electronic records and signatures, software validation, and computer system validation.
For more information or to register for the seminar, please click here.
Speaker David Nettleton, an FDA Compliance Specialist and Computer System Validation's Principal, is an industry leader, author, and teacher for 21 CFR Part 11, Annex 11, HIPAA, software validation, and computer system validation. He is involved with the development, purchase, installation, operation and maintenance of computerized systems used in FDA compliant applications. The author of Risk Based Software Validation - Ten Easy Steps, he has completed over 230 mission critical laboratory, clinical, and manufacturing software implementation projects.
The objective of this two-day seminar is to address the specific requirements associated with local and SaaS/cloud hosting solutions and illustrate the importance of validating the quality process and every computerized system used in laboratory, clinical, and manufacturing settings.
This seminar will bring those who use computer systems to perform their job functions and regulatory, clinical, and IT professionals working in the health care, clinical trial, biopharmaceutical, and medical device sectors up to speed on current industry practices.
Date: Thursday, April 21 (8.00 AM- 5.00 PM) and Friday, April 22, 2016 (8.00 AM- 4.00 PM)
Location: Philadelphia, PA
Registration Cost: $1,699.00 per registration
Early bird discounts: For discounts on early registrations, Register Here
Register by phone: Please call our customer service specialists at +1-888-717-2436 or email to customercare(at)complianceonline(dot)com
About ComplianceOnline
ComplianceOnline is a leading provider of regulatory compliance trainings for companies and professionals in regulated industries. ComplianceOnline has successfully trained over 35,000 professionals from 9,000 companies to comply with the requirements of regulatory agencies. ComplianceOnline is headquartered in Palo Alto, California and can be reached at (http://www.complianceonline.com). ComplianceOnline is a MetricStream portal. MetricStream (http://www.metricstream.com) is a market leader in Enterprise-wide Governance, Risk, Compliance (GRC) and Quality Management Solutions for global corporations.
For more information please contact:
A Reuben Bernard
Associate Director - ComplianceOnline
2600 E Bayshore Rd
Palo Alto CA USA 94303
Phone - 650-620-3937/650-620-3915
Fax - 650-963-2556
reuben(at)complianceonline(dot)com
http://www.complianceonline.com