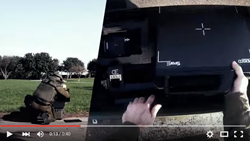 (PRWEB) April 12, 2016
Vidisco recently released a new video from a very unique perspective. An EOD technician filmed the setup of Vidisco's newest system from his GoPro helmet. In this video, one can see how simply and easily the SparX portable digital X-ray system can be setup and used in the field.
All the systems part fit into a compact suitcase that rolls practically anywhere (there is also a backpack option for use in tougher terrain) and this case also serves as the X-ray system's control platform. In the video one can see how the EOD expert removes the panel and source with ease and places them in position to X-ray the suspicious object. The entire process takes only a couple of minutes and then the system is ready to X-ray with a click of a button.
The SparX is one of Vidisco's more affordable systems as it allows even those with a tight budget to take advantage Vidisco's superior technology and experience with creating the most advances portable security X-ray systems. As a top quality system at a modest price, it not only meets Vidisco's standards but takes great strides towards user demands including compatibility with 1.6 km WiFi option and with a new rugged tablet.
Vidisco's YouTube Channel has a great array or videos relating to using a variety of different portable X-ray systems for several different applications in the security and NDT fields. There are also videos featuring Vidisco's smart accessories and tutorials on how to use specific features of the proprietary Xbit software that comes with each system. It is a great source of information for anyone looking into purchasing an advances portable digital X-ray system or for those who just want to learn more. For additional details please contact Vidisco's sales team directly sales(at)vidisco(dot)com or check us out online at http://www.vidisco.com