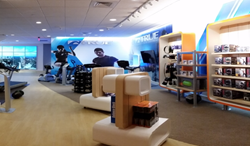 Our goal is not to keep up with trends, but start a new one" said Tom Richards, CMO.
Boston, MA (PRWEB) April 12, 2016
The brand new store, now open to the public inside Jordan's Furniture in Reading, MA, is completely focused on reimagining the specialty fitness shopping experience. With a completely updated, innovative look and fitness equipment experts in-store, Gym Source aims to help fitness fans interact with equipment in a new way.
"Gym Source has always been focused on providing our clients with the best fitness equipment in the industry in the most convenient way, but shopping habits have changed over the years. Our goal is not to keep up with trends, but start a new one," said Tom Richards, Chief Marketing Officer at Gym Source.
The new concept store will correlate the look and feel of Gym Source's website, http://www.GymSource.com, to give clients a seamless and motivating shopping experience. Customers will also get to know some of Gym Source's best selling brands in individual brand sections of the store.
"No two pieces of equipment are alike. When we're considering a relationship with a fitness equipment manufacturer, we put them to the test. We study the quality of their equipment, biomechanics, performance, and service and warranties. We more often than not work with them to ensure our criteria and feedback are incorporated into the products we sell. We're so proud of our brands, we want clients to get to know them even better in the stores," said Norm Morrison, Gym Source Product Manager.
Following the opening of the Reading, MA store, Gym Source has plans to incorporate the innovations into several new locations scheduled to open in the future. These innovations will bring a customized shopping experience to new markets guiding clients to the perfect equipment to meet their fitness goals.
About Gym Source
Gym Source is America's oldest and largest Specialty Fitness Equipment Dealer. It currently operates 32 retail locations in 11states. Gym Source serves customers in all 50 states as well as in 47 foreign countries. As of 2015, the company has sold to more than 400,000 customers and has made nearly 2 million deliveries. Gym Source is the most successful Specialty Fitness Equipment Dealer in the United States.
Contact:
Brigette Klakring
Marketing Director