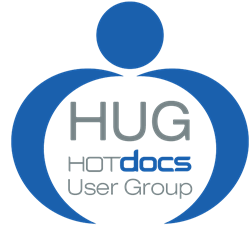 HUG offers a valuable day of learning and networking...
Edinburgh, UK (PRWEB UK) 12 April 2016
The HotDocs User Group (HUG) takes place each year and provides a forum for existing and prospective HotDocs customers and partners to meet with the HotDocs team, find out about the latest product developments, discover best practice use cases and network with other HotDocs users during the informal networking sessions. For 2016, the scope of the event has been extended to incorporate HotDocs training sessions in the morning, followed by HUG in the afternoon.
Steve Spratt, SVP & General Manager of HotDocs International, said: "HUG is a fantastically well attended event and we wondered what we could do to offer even more to our attendees. Extending the day to incorporate training sessions in the morning will offer HotDocs users the opportunity to hone their template development skills and pick up tips and tricks from the experts at HotDocs. Add this to the keynote speech, product updates and client use case presentations planned for the afternoon and HUG offers a valuable day of learning and networking for our clients, partners and prospects."
The full agenda and registration process for HUG will be announced soon. In the meantime, anyone interested in further information about the event should email marketing(at)hotdocs(dot)co(dot)uk
About HotDocs
HotDocs is the market leading provider of automated document assembly software, with customers in 60 different countries and a user-base, globally, that exceeds one million. Document automation, or document assembly, allows a vast reduction in time spent in the production of high volume, repeat documentation such as contracts, agreements and other legal paperwork.
Widely used within the banking, legal, insurance, public and corporate sectors, HotDocs software also increases accuracy, reduces cost/risk and improves efficiency in the generation of complex, or simple, repeat documentation. The software is available on premise, on desktop or via the cloud and can operate in a standalone capacity or as part of a wider business process management system, such as workflow, document management or case management systems.