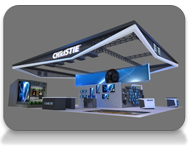 At Christie, we pride ourselves as an industry leader that empowers visually-immersive experiences to audiences around the world.
(PRWEB) April 13, 2016
Christie®, a leader in creating and delivering the world's best visual and audio experiences, will present a fascinating lineup of leading visual solutions ideal for cultural assets development and location-based entertainment at InfoComm China 2016, which takes place at the China National Convention Center, April 13-15.
Christie's multi-zone display at booth EB1-01, which includes a giant wristwatch projection mapping showcase and an avant-garde digital art gallery, is a perfect b​​lend of advanced technology and rich heritage that injects new life to precious art pieces and objects. Divided into six zones, the booth is set to attract visitors with eye-catching projection mapping demonstrations that are perfect for themed entertainment, venues and attractions.
"With the greater emphasis on cultural assets development and location-based entertainment in China, particularly with the imminent opening of many more new theme parks in China, our wide range of visual solutions presented at this year's InfoComm China are well positioned to deliver the best visual experience that will delight audiences and add value to these venues," said Jason Pei, Deputy General Manager, Christie China.
Lin Yu, Vice President, Christie Asia Pacific, added, "At Christie, we pride ourselves as an industry leader that empowers visually-immersive experiences to audiences around the world, and this is clearly demonstrated with the wide range of visual solutions showcased at our booth. From smaller-scale events and environments to large venues, shows and attractions, we have the technology, knowledge and experience to help owners and operators fascinate and captivate the audience. Behind the magic is the reliability of our solutions that keep all displays running consistently to maximize uptime for the enjoyment of everyone."
Zone 1 – Watch Mapping
One of the main highlights is a projection mapping demonstration on a 12-meter wide curved screen shaped like a wristwatch using five award-winning Christie Boxer 4K30 3DLP® projectors with live content managed by two Christie Pandoras Box media servers. With its class-leading 30,000 lumens, 4K (4096 by 2160) native resolution and weighing in at less than 160lbs, the Christie Boxer 4K30 has set a new industry benchmark for rental staging and fixed installation applications.
Zone 2 – Digital Art Gallery
Using wall and floor projection mapping, several acclaimed art pieces and objects will be brought to life by Christie G Series and Christie WU14K-M projectors, with content created by Christie THREE SIXTY and driven by Pandoras Box. The Pandoras Box features the most powerful render-engine offering real-time compositing in 3D, allowing for projection onto any shape and any surface. Visitors will have the opportunity to experience the Pandoras Box's spectacular 3D render engine by taking a virtual walkthrough of the digital art gallery, seen through Oculus Rift virtual reality glasses.
Zone 3 – Christie Roadie 4K45 Projection Mapping
This zone highlights the Christie Roadie 4K45. Rugged, reliable and road tested, the Roadie 4K45 will capture attention with a dazzling projection on a 4-meter wide screen featuring 4K content composited by the Christie Pandoras Box media server. It boasts 45,000 lumens, integrated warping and blending capabilities for world-class projection mapping applications, and Christie TruLife™ electronics for excellent color reproduction and image processing. Ideal for live events and location-based entertainment, the Roadie 4K45 is built for the most rigorous Pro AV requirements.
Zone 4 – Stereoscopic Projection with Christie Mirage WU14K-M
Be prepared for a highly immersive visual experience in this zone, which features an impressive stereoscopic projection using the Christie Mirage WU14K-M, projecting onto a screen three meters wide. Delivering more pixels, more performance, and even more brightness for visually stunning 3D, the Mirage WU14K-M features 12,500 ANSI lumens from a dual 450W lamp design and up to 2100:1 contrast. With WUXGA resolution and Dual Input 3D offering up to 120Hz native performance, the Christie Mirage WU14K-M is an innovative, high performance 3D projector offering crisp, detailed images with excellent color reproduction ideal for venues such as theme parks, art galleries and museums.
Zone 5 – Maximize Your Space with Christie Captiva and Christie MicroTiles
Designed to resemble a stylish bar, this zone focuses on how space in different environments can be maximized to delive​r eye-catching visuals with the compact, quiet and powerful Christie Captiva DHD400S projector displaying bright and vivid images. With its ultra short throw lens and 20,000 hours of lamp-free operation, the Christie DHD400S maximizes space without sacrificing visual impact. Also showing is the award-winning Christie® MicroTiles®​ installed behind a large Christie logo cutout. Christie MicroTiles are the ultimate digital canvas for delivering amazing image quality, and vibrant, true-to-life colors in almost any shape and size. They are ideal for owners of entertainment venues to create eye-catching signage and displays that bring events to life.
Zone 6 – Comprehensive Line of Business Products
Christie will also showcase its line of 1DLP® and 3DLP® projectors including the Christie G Series, H Series​, the new HS Series with 13,500 lumens and BoldColor Technology, GS Series, Q Series, and Christie Boxer Series, J Series, and M Series that are suitable for corporate meeting rooms, higher education, houses of worship, government and more.
Visit Christie at Booth #EB1-01
About Christie
Christie Digital Systems USA, Inc. is a global visual and audio technologies company and is a wholly-owned subsidiary of Ushio, Inc., Japan, (JP:6925). Consistently setting the standards by being the first to market some of the world's most advanced projectors and complete system displays, Christie is recognized as one of the most innovative visual technology companies in the world. From retail displays to Hollywood, mission critical command centers to classrooms and training simulators, Christie display solutions and projectors capture the attention of audiences around the world with dynamic and stunning images. Visit http://www.christiedigital.com.