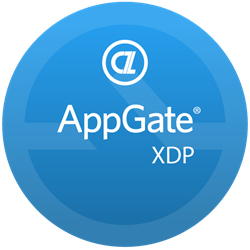 Enterprises know that defending the perimeter is no longer enough—it's what happens after a breach occurs that really matters. - Barry Field, CEO of Cryptzone.
Waltham, Mass. (PRWEB) April 12, 2016
Cryptzone announced that its premier security solutions, Security Sheriff and AppGate, have been recognized by Cyber Defense Magazine as winners in two categories of the 2016 Cyber Defense Awards: The Cutting Edge Solution for Access Control (AppGate) and The Most Innovative Data Leakage Prevention Solution (Security Sheriff).
"Cryptzone's state-of-the-art network access control solutions continue to earn accolades, thanks to our unconventional approach to the now age-old issue of network access and security," said Barry Field, CEO of Cryptzone. "Enterprises know that defending the perimeter is no longer enough—it's what happens after a breach occurs that really matters. Cryptzone's forward-looking network security and DLP solutions provide a much-needed, context-aware approach to securing today's IT landscape."
Cryptzone's award-winning solutions include:

AppGate: A dynamic, user-centric security gateway that provides application and service-specific authentication, and authorization for controlling access from inside and outside the enterprise. This simplifies the user access problem and eliminates over-entitled network access. Drawing on user context, AppGate dynamically creates a secure, encrypted network 'segment of one' tailored for each user session. AppGate provides exhaustive forensic evidence of access to systems for compliance auditors.
Security Sheriff: Metadata-driven, item level security to restrict access to, encrypt, track and prevent the emailing of content based upon the presence of sensitive and/or non-compliant information, offers content-aware DLP capabilities for Microsoft SharePoint and Office 365. Cryptzone's granular approach to security limits access at the item level. Security Sheriff is a centralized, cost-effective data security solution to ensure compliance with regulatory and corporate policies, and protect against breaches to mitigate risk.
The Cyber Defense Magazine Awards celebrate leaders in the information security field that bring innovative technologies to market.
About Cryptzone
Cryptzone secures the enterprise with dynamic, context-aware security solutions that protect critical services, applications and content from internal and external threats. For over a decade, enterprises have turned to Cryptzone to galvanize their Cloud and network security with responsive protection and access intelligence. More than 450 public sector and enterprise customers, including some of the leading names in technology, manufacturing and consumer products, trust Cryptzone to keep data and applications secure. For information, visit http://www.cryptzone.com and follow us @Cryptzone.
Media Contact
Jessica Ann Morris
for Cryptzone
+1.781.608.0499
jessica(at)zagcommunications(dot)com