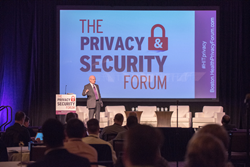 New York, NY (PRWEB) April 13, 2016
HIMSS has announced that the FBI and the National Institute of Standards and Technology will headline the Privacy & Security Forum, the largest gathering of healthcare InfoSec decision-makers in the U.S., which kicks off in Los Angeles, May 11, 2016.
Sponsored by Caradigm, Cylance, Protiviti, Symantec, and VASCO, the two-day Privacy & Security Forum is the nation's leading InfoSec conference, featuring 26 world-class speakers, 20 thought leadership sessions, and eight strategic networking opportunities – all designed to provide attendees with InfoSec best practices, actionable strategies, and business-critical solutions they can put into practice at their own organization.
"At HIMSS Media, we recognize information security is more important than ever before. As cyberattacks grow more sophisticated, and ransomware attacks on healthcare groups reach record heights, it's critical that cybersecurity efforts evolve to keep pace," said John Whelan, Executive Vice President, HIMSS Media. "This face-to-face event is designed to give attendees key insights from the nation's top InfoSec visionaries on how to better safeguard their organization's data."
The HIMSS Privacy & Security Forum Los Angeles brings together InfoSec experts from leading organizations – including Carnegie Mellon University, Intermountain Healthcare, McKinsey & Co., and Seattle Children's – who will share key insights on putting a solid security program in place and how to better protect data assets against emerging threats. Topics to be addressed at the event include: access management; cloud security; cybersecurity and emerging threats; HIPAA; incidence response; medical device security; and risk management.
Keynotes:

FBI: Gina Osborn, Assistant Special Agent in Charge, LA Field Office, Cybersecurity
NIST: Ronald Ross, Computer Scientist & Fellow
Featured Speakers:

Carnegie Mellon University: David Tobar, Senior Cybersecurity Engineer
Henry Ford Health System: Meredith Phillips, Chief Information Privacy & Security Officer
Intermountain Healthcare: Karl J. West, CISO/AVP of Information Services
IT Process Institute: Scott Alldridge, CEO
McKinsey & Co.: Venky Anant, Associate Partner, Cybersecurity Expert
Office for Civil Rights (OCR): Yun-kyung Lee, Supervisory Investigator
Seattle Children's: David Severski, Evidence-Based Information Risk Manager
UCLA Health: William Lazarus, CTO
UCSF School of Medicine: Kristin Chu, IS Deputy Director
Visit our event website for more information, to register now, or see a complete speaker lineup.
About HIMSS Media
HIMSS Media is the fastest growing B2B media group focused exclusively on healthcare and technology markets. Through its suite of market-leading brands, such as Healthcare IT News, Healthcare Finance and MobiHealthNews, HIMSS Media delivers news, analysis and must-have information to an audience of senior healthcare and technology influencers. HIMSS Media is also the leading producer of important live events, such as MobiHealthNews 2016, Privacy & Security Forum, Pop Health Forum, Revenue Cycle Solutions Summit, and Big Data and Healthcare Analytics Forum.
About HIMSS
HIMSS is a global, cause-based, not-for-profit organization focused on better health through information technology. HIMSS leads efforts to optimize health engagements and care outcomes using information technology. HIMSS is a cause-based, global enterprise producing health IT thought leadership, education, events, market research and media services around the world. Founded in 1961, HIMSS encompasses more than 61,000 individuals, of which more than two-thirds work in healthcare provider, governmental and not-for profit organizations across the globe, plus over 640 corporations and 400 not-for-profit partner organizations that share this cause. HIMSS, headquartered in Chicago, serves the global health IT community with additional offices in the U.S., Europe and Asia.