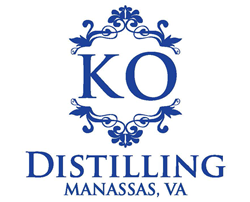 Manassas, Virginia (PRWEB) April 13, 2016
KO Distilling brought home a Bronze Medal on April 6th for their Virginia Moon White Whiskey at this year's Craft Spirits Conference in San Diego, California, hosted by the American Distilling Institute (ADI). This is their fourth medal of 2016. To date, KO's Virginia Moon White Whiskey has won an award in each competition it has entered.
The American Distilling Institute has been a part of the craft distilling industry since 2003 and has since become the largest and most-respected organization devoted to craft Sprits. ADI is instrumental in the growth of the craft community through education, networking and creating the largest gathering of licensed distillers in the U.S.
Earlier this year, KO received two Bronze Medals at the San Francisco World Spirits Competition for their Virginia Moon White Whiskey and Battle Standard 142 Navy Strength Gin. The 2016 SFWSC featured more than 1,850 entries and is considered to be the most influential spirits competition in the world. Additionally, KO was awarded a Silver Medal for their Virginia Moon White Whiskey from the American Craft Spirits Association where winners were hand-selected among a pool of nearly 450 entrants across 39 states.
In November 2015, KO was awarded the Virginia Finest Products Certification from the Virginia Department of Agriculture for all of their products.
About KO Distilling:
KO Distilling was co-founded by college classmates and long-time friends Bill Karlson and John O'Mara in 2013. This new craft distillery in historic Manassas, VA is both a distilling plant and a tourist destination offering tours and tastings. KO makes, stores, bottles and ships both high-quality clear (unaged) and brown (aged) distilled spirits. Their products include gin (New Western Style and Barrel Finished), white whiskey, bourbon, rye whiskey, wheat whiskey, and other spirits. They are proud to be the 19th operating distillery in Virginia and one of roughly 1,000 (and growing) craft distilleries in the United States. They are also privileged to partner with many other small businesses, suppliers and farmers in the local area.
Battle Standard 142 Navy Strength Gin (Code 29314) is now available in 100 ABC stores across the Commonwealth, and their Virginia Moon White Whiskey (Code 27910) and Battle Standard 142 Standard Strength Gin (Code 29316) are available through special order at any ABC store. In addition, KO Distilling has recently partnered with Schneider's of Capitol Hill to sell their products in Washington D.C. and online to 38 states.