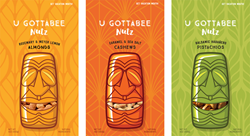 Sonoma, California (PRWEB) April 12, 2016
Drawing on the family's deep roots in the wine and food business, Don Sebastiani & Sons is expanding its expertise this April to a category complementary to its core wine business, specialty foods. The new offering – U Gottabee Nutz – features healthy, flavored, dry-roasted nuts made with natural ingredients.
Over four generations, the spirit of innovation has pushed the Sebastiani family beyond wine. Donny Sebastiani, President and CEO noted, "My great-grandfather Samuele farmed artichokes, cabbage and later opened up the Sebastiani Cannery, where he canned local fruits and vegetables here in Sonoma."
"Many people around the US still remember – and some still actively cook with – my Grandmother Sylvia's cookbook, Mangiamo! Let's Eat, one of the first of its kind. In the '80s, my Dad imported Olive Oil from Tuscany; and about 5 years ago, my sister Mia began making pasta sauces, olive oils and balsamic vinegar."
"After 110 years of perfecting our winemaking skills, we were ready to try our hand in the natural snacks category. We wanted to create items that will both expand our reach as a family and a company and also give us additional tools with which we can support and grow our wine distribution," said Donny Sebastiani. With a mischievous smile matching the packaging, Donny answered the question, who are you targeting with U Gottabee Nutz? "Anyone with teeth."
U Gottabee Nutz will be available in three varieties:
Rosemary & Meyer Lemon Almonds: Roasted almonds and tart Meyer lemon zest with herbaceous rosemary mingle to create a lip-smacking savory snack. Almonds have the best ratio of protein, fiber and calcium, coined as one of the world's healthiest foods.
Balsamic Habanero Pistachios: Roasted pistachios and bold spicy habanero chilies with a hint of sweet balsamic combine for an irresistible sweet heat (that leaves you wanting more). Pistachios hold their own with high potassium and vitamin B-6 levels as well as being known to be the most antioxidant-dense nut in the market.
Caramel & Sea Salt Cashews: Roasted cashews and toasty caramelized molasses with flecks of sea salt create the perfect balance of salty-sweetness. Known as the most nutrient-rich nut, cashews are chalk-full of zinc, copper and iron.
Every variety in the new line will be an advocate for health with delicious, non-GMO, kosher nuts, natural ingredients without trans fats or cholesterol and a great source of omega-3's, protein and fiber. These new offerings are created in the spirit of the Mediterranean diet with emphasis on plant-based foods, such as whole grains and nuts, using herbs and spices instead of salt to flavor foods and of course good wine.
U Gottabee Nutz will uphold the core values of the family business and provide exceptional quality, make every day experiences festive and memorable, and offer business partners five-start customer service.
The new, healthy nut snack will hit grocery store shelves nationwide beginning this April for the suggested retail price of $5.99 per 4 oz. bag. For more information on U Gottabee Nutz, please visit http://ugottabeenutz.com/.
About Don Sebastiani & Sons:
Don Sebastiani & Sons is a family-owned beverage and natural snacks company based in the Sonoma Valley, with a winery in the Napa Valley. Principals Don Sebastiani and his sons, Donny and August, are third-and fourth-generation California vintners and merchants. The company was recently named one of the Best Places to Work by the North Bay Business Journal for the third consecutive year; that same publication also awarded company General Manager and CFO Tom Hawkins with the honor of Winery CFO of the Year. For more information on Don Sebastiani & Sons and their wines, please visit http://www.donsebastianiandsons.com/.
For further media information please contact:
Polina Burns
707-931-2402
pburns(at)donandsons.com