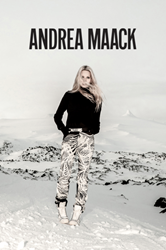 Engaging with fans online, particularly on Instagram and Snapchat, has given me an amazing opportunity to meet and really get to know the people who buy my fragrances in the US and around the world," says Founder and Creative Director, Andrea Maack.
Reykjavik, Iceland (PRWEB) April 13, 2016
Andrea Maack, the renowned Icelandic visual artist and eponymous fragrance brand, today announced that US customers can buy the brand's new super premium fragrances directly from http://www.andreamaack.com. New scents Dual and Soft Tension are now available for shipping to the continental US in US Dollars.
Andrea Maack is the first super premium fragrance brand to pivot the company's brand strategy to cater directly to the modern fragrance lover, whose penchant for social media and e-commerce are only matched by their desire to engage on and offline with Maack's immersive scent universe, and particularly through Instagram (@andreamaack).
"Engaging with fans online, particularly on Instagram and Snapchat, has given me an amazing opportunity to meet and really get to know the people who buy my fragrances. It's inspiring and informs my creative decisions when I'm bringing a new scent to life. I didn't have that visibility before," says Founder and Creative Director Andrea Maack. "I've adapted my brand's whole philosophy and product line to be e-Commerce focused, opening our own webstore and working with select retail partners who truly understand my audience and how important social media is to communicating with them."
Collaborating with perfumer Alienor Massenet while at IFF in Paris, France, Maack and Massenet took inspiration from Maack's upbringing and the barren Nordic landscape to deliver the new unisex fragrance line. The new scents embody elements of Maack's travels, artistic explorations and her profound relationship with Iceland.
With these releases, Maack is introducing a new uniform, highly photogenic brand identity for the fragrance vessels.The striking black bottle and box were designed in collaboration with Maddalena Casadei at Studio Irvine in Milan, Italy, with graphic design by Tommaso Garner, who interpreted Maack's original paintings to complete the new brand look.
The Andrea Maack webshop now ships to the continental US, UK, Belgium, Denmark, France, Germany, Ireland, Italy, Luxembourg, The Netherlands and Spain.
Customers in Europe and the UK can also purchase the new fragrances, Dual and Soft Tension, at Madison Ilmhús in downtown Reykjavík, Iceland, STORM in Copenhagen, Denmark, and KTZ in London.
Dual is a unisex sport fragrance inspired by the calming water of the natural hot springs in the Icelandic Highlands. Dual mimics the feeling of fresh water on the skin and the intense color spectrum surrounding the hot spring lagoons.
The powerful, uplifting aromas of ginger, lemon and pink pepper coexist with the grounded woody elements of dry amber and cedar wood, resulting in an enlivening scent experience.
Ginger-Lemon- Pink pepper-Dry amber-Cedar wood
Soft Tension is a sensual white musk inspired by a thick mysterious fog. Like a white desert, the fog is a place to get lost in and let go.
Soft Tension is a bold mix of musks combined with freesia that grounds itself in the skin. Black raw materials are mixed with white ones, such as mate absolute, cedar wood and moss, creating the soft tension.
Freesia-Musk-Mate Absolute-Cedar wood-Moss
About Andrea Maack
Andrea Maack is revered Icelandic conceptual artist and eponymous fragrance brand. The brand's fragrances unite the worlds of scent and fine art. Approaching scent as a subject matter, for her first ever perfume creation, Maack posed the question: "Can you create a fragrance inspired by a drawing?"
Maack was commissioned to explore this question with a series of scented art exhibitions worldwide. Through these exhibitions, her installations slowly morphed into her eponymous brand. In 2011, "The Art Series" fragrances that originated in Maack's art installations were launched internationally. The fragrances are carried globally by respected retailers such as Harvey Nichols, Henri Bendel, Neiman Marcus, Printemps and have been featured in prestigious fashion and art media such as Vogue, Elle, AnOther, Frame, Glamour and Marie Claire.
As the Andrea Maack brand continues to grow, it is evolving its scent universe to be social media and e-commerce focused, adding new dimensions to the fragrance experience including immersive storytelling about Maack's #fragrancehunt journey. Everything from how Maack presents scents online to how the fragrances are packaged feature elements of Maack's own identity, with a timeless and sophisticated design that is attractive to both sexes.
Andrea Maack is proud to have received a marketing grant from the Icelandic Technology Development Fund.
For more information, visit andreamaack.com.