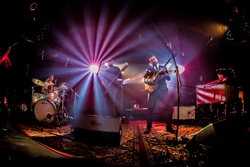 Fairfield, CT (PRWEB) April 12, 2016
Jam. Band. Apart, these two words are innocuous. Put them together, and they somehow become polarizing. Whatever the perceptions may be, there are a few characteristics that help give meaning to this loosely-defined genre. This month, Fairfield Theatre Company (FTC) hosts a weekend of jamband performances on Thursday, April 21 and Friday, April 22, to reveal a distant truth about the jamband culture.
When it comes to this culture first and foremost, the artists are expert musicians, masters of their instruments and playing styles. These bands are also marked by their relentless touring schedules, which naturally lend itself to the improv that is a hallmark of the live setting. It's a diverse musical culture that thrives upon the live concert experience — not so much a genre as much as it is an approach to music.
The jamband scene has evolved and is still bustling. There is no shortage of talented musicians who prefer to improvise on stage as they blend genres, taking the audience and themselves on a total sensory experience. Two internationally-recognized touring acts come to The Warehouse at Fairfield Theatre Company (FTC) for a weekend of jam, funk, and soul. The New Mastersounds and Moon Hooch perform on Thursday, April 21 and Kung Fu with lespecial follows performing on Friday, April 22.
If you looked at a picture of Eddie Roberts, guitarist and front-man for the supremely funky British band The New Mastersounds, most wouldn't think "jamband." His suit and tie set a sort of tone that matches their music: sly, sophisticated, hip and daring — in a conservative sort of way. He is a master at mixing soaring hard bop guitar lines with authentic James Brown grooves. Overall, the band's sound is a steady, up-tempo joyride through channels of soul, Afro-beat, jazz, and old school funk. They're all about the pocket, the groove, and getting their audience out of their seats. NMS is at the very top of an elite selection of acts that bring the true soul out of funk.
On Friday, April 22, local Connecticut jamband Kung Fu brings their heavy funk to The Warehouse. Some have asked, "Can a band be too tight?" The answer is no. Kung Fu is so tight and so right and has toured alongside some of the best jambands on the circuit. Making funk fusion music "cool" again, the band draws on influences such as early Headhunters, Weather Report, and Mahavishnu Orchestra, merging those ideas with technical fireworks and a contemporary EDM informed sensibility. The ensemble, a seasoned pedigree that reads like a late-night summer festival all-star jam has been described by critics and fans of Galactic & Umphrey's McGee alike as "lethal funk", "explosive", "jaw dropping", and "musically mesmerizing". They headlined New Year's Eve on StageOne in 2013 and now return three years later to take on FTC's new venue, The Warehouse at FTC. Their opening act, "lespecial," has been making waves as a jamband to watch, performing across the Northeast and beyond as an opening act, headliner, and music festival participant.
This isn't just a scene trying to relive the glory days of the Grateful Dead. Rather, it's a vibrant scene of talented musicians, knowledgeable and passionate fans and an unmistakable freedom of self. Jamband fans get lost in the music and actually seem to enjoy themselves. And, really, what's to hate about that?
The experience is always diverse and invariably outstanding. These FTC return acts are a must-see for fans of the genre and those willing to experience artists who have mastered their craft.
The New Mastersounds and Moon Hooch in The Warehouse
Thursday, April 21
7 p.m. Doors, 8 p.m. Show
Kung Fu and lespecial in The Warehouse
Friday, April 22
8 p.m. Doors, 9 p.m. Show
Visit http://www.fairfieldtheatre.org for samples of the music and ticketing information.
About Fairfield Theatre Company:
The Fairfield Theatre Company is a nonprofit organization dedicated to a simple premise - that the broadest spectrum of live entertainment and cultural exchange is essential to the vitality of our society. We believe that our quality of life depends on opportunities to get out, and come together in public places to enjoy live music, art, theatre, film, all manners of creative and intellectual discourse, and to participate in these activities to the fullest. From our first season of plays in 2001 on the Fairfield University campus, to the opening of our StageOne venue in downtown Fairfield in 2004, The Warehouse in 2015, to a string of highly-acclaimed performances presented at The Klein Auditorium in Bridgeport and the Norwalk Concert Hall, FTC has evolved into the region's most energetic and productive performing arts organization.