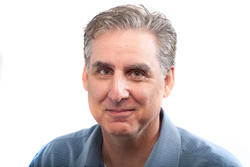 Chicago, Ill. (PRWEB) April 13, 2016
Sandbox, previously GA Communication Group, one of the nation's leading independent full-service agencies, has promoted Lare Arra, an award-winning writer and formerly executive creative director, to the newly created position of vice president-executive creative director. Arra joined the agency in 2012 and has played a key role in building Sandbox's creative strength in the field.
In his new role, Arra will provide strategic and creative leadership for the creative team, particularly on the copy side, working in tandem with Barclay Missen, chief creative officer, who will focus on the art side. Like all Sanbox's senior executives, Arras, who reports to Missen, will also continue to play an active role in the agency's concept development process.
"Our creative staff has grown dramatically over the last few years, making it clear that we needed to create greater structure and better manage and optimize the work," said Missen, describing Arra as the "clear choice" for this new role. Citing Arra's significant contributions to the agency during his three years of service, Missen pointed to Arra's role in creating some of the agency's most successful campaigns, as well as to his strengths as a manager.
With more than two decades of experience on the creative side, Arras has created large, integrated cross-channel campaigns and promotions for the full spectrum of health brands, including HCP, DTC, medical devices, consumer packaged goods and B2B. His campaigns span the spectrum of media channels, including digital, experiential, social, broadcast, print, environmental and POS. With a bevy of honors to his name, he has won numerous industry awards recognizing creative excellence, including Emmy, Clio, Addy, Cannes Lion, Cannes Lion, Cannes Cyber Lyon and New York Film Festival.
"I'm honored to have been chosen for this new role," Arra said. "Sandbox fosters a culture that encourages everyone in the agency to step forward with innovative ideas. My goal is to reinforce this culture and to help Sandbox continue generating innovative and successful campaigns."
Prior to joining Sandbox, Arras worked as a senior writer at AbelsonTaylor, a Chicago-based healthcare agency, and as SVP-executive creative director at Chandler-Ehlrich, a full-service consumer agency in Memphis, Tenn. He also served as creative director at iLeo/Leo Burnett, a consumer digital agency in Chicago, where he wrote and produced an award-winning online webisode series that turned into a mini-series on the History Channel.
He began his career at BBDS, a consumer agency in Chicago, where he was responsible for all broadcast and digital production.
Arras, 47, received a Bachelor of Arts, specializing in journalism, in 1987 from the University of Wisconsin, Madison. He lives in Chicago, Ill.
About Sandbox
Launched in 2016, Sandbox is an independent, full-service agency formed by four complementary entrepreneurial agencies united by a "play well together" ethos of collaboration. Headquartered in Chicago, Sandbox operates from seven locations across the U.S. and Canada. Its roster of clients includes some of the most respected names in human and animal healthcare, agriculture, biotechnology, financial services, travel, and consumer products. To learn more, visit sandboxww.com.