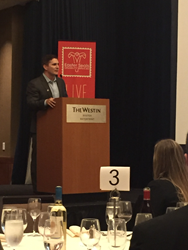 Devens, MA (PRWEB) April 14, 2016
On April 7, 2016, Easter Seals of Massachusetts awarded Laddawn, Inc. with the prestigious Team Hoyt award, given to Laddawn for going above and beyond to help people with disabilities and to provide opportunities for the disabled to live, learn, work and play. In accepting the award at Easter Sales Evening of Empowerment at the Westin Waterfront in Boston, MA, Laddawn co-president Ladd Lavallee announced that Laddawn and its employees will give $250,000 in 2016 to Easter Sales of Massachusetts. A portion of the funds were raised through a series of innovative employee-held events including comedy nights, auctions, raffles, cook-offs and more.
Charitable giving is an inherent part of Laddawn's business. In addition to employee-held events, the company donates $1 for all online orders over $100 and gives its customers the opportunity to choose from a selection of charities when checking out online. Choices include The Nature Conservancy, American Red Cross, Boys & Girls Clubs of America, the American Cancer Society and Easter Seals.
About Laddawn:
Established in 1976, Laddawn is one of the largest wholesalers of high quality packaging products in the USA, selling poly bags, tubing, film, sheeting, mailers and other packaging accessories to distributors. Laddawn's corporate headquarters are located in Devens, Massachusetts, with additional locations in Atlanta, Cedar Rapids, Dallas and Reno.
Laddawn website: http://www.laddawn.com
Team Hoyt: http://www.teamhoyt.com/
Easter Seals of Massachusetts: http://www.easterseals.com/ma/