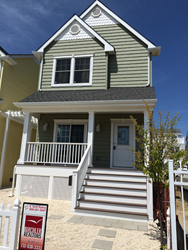 With high-end appointments and a premier Seaside Heights location, these homes are ideal for those seeking luxury living at the shore.
Seaside Heights, NJ (PRWEB) April 13, 2016
Island Beach Way, a luxury home community nestled between the Atlantic Ocean and Barnegat Bay, invites the public to a Spring Open House this weekend at its newly furnished Kingfisher model home. Attendees will have the chance to tour the models and learn more about the community's special financing options.
"At this weekend's Spring Open House, homebuyers will experience how Island Beach Way stands apart as a beach community," said Tom Critelli, builder of the homes at Island Beach Way. "With high-end appointments and a premier Seaside Heights location, these homes are ideal for those seeking luxury living at the shore."
Located just two blocks from the Seaside Heights beach and boardwalk, Island Beach Way features 26 homes with three bedrooms, 2.5 baths and up to 1,805 square feet of living space. Open interiors offer ceramic tile, hardwood floors and nine-foot first-floor ceilings. Designer kitchens feature 42-inch cabinets with crown molding, granite countertops and high-end stainless steel appliance packages.
Outdoor amenities include individual exterior showers and private balconies or terraces. All landscaping is taken care of by the Homeowners Association, allowing homeowners to sit back and enjoy the breezy shore lifestyle.
Homes at Island Beach Way are Federal Emergency Management Agency (FEMA) flood compliant and are built to satisfy New Jersey's flood elevation regulations. These regulations recommend proper elevations to ensure homes are less vulnerable to damage in potential floods.
"We've taken every aspect of our location into consideration to build a community that our homeowners will find safe and enjoyable," added Critelli. "Our residents know that their homes are built to withstand flooding and are free to enjoy this premium beach location without worry."
Only eleven homes remain at the luxury beach community, including four quick delivery homes. Two Kingfisher models with decks are available for summer move-in. The Sandpiper and Egret models will both be ready for occupancy in October.
"It's the perfect time to select your dream home at Island Beach Way," added Critelli. "Homeowners who act now can enjoy their new home by summer and can benefit from financing offers as well."
Homes are priced from the mid 300s. The Spring Open House will take place on April 16th and 17th from 12 p.m. to 3 p.m. at the newly furnished Island Beach Way Kingfisher model home at 213 Sherman Avenue in Seaside Heights. To learn more about Island Beach Way, visit IslandBeachWayHomes.com.
About Danitom Development Inc.
Since 1992, Danitom Development Inc. has completed a full range of construction projects throughout NJ, particularly central NJ and the Jersey Shore. From elegant residential projects to large-scale commercial development, it has continuously validated its reputation as a dependable and relationship-driven builder of more than 350 homes.