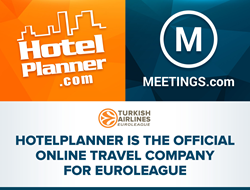 We believe this sponsorship is a perfect fit towards providing the best hotel reservation services possible to keep fans, players, and clubs near the game and close to all the action
London, UK (PRWEB) April 13, 2016
HotelPlanner.com is now the official Online Travel Accommodation Partner for Euroleague Basketball, a global leader in sports management.
The agreement for the current season plus one more will see the prominent online group travel company provide travel services for teams, competition staff and fans, with HotelPlanner managing both corporate hotel bookings and those of the competition's game officials throughout the 2015-2016 and 2016-2017 seasons.
For nearly two decades now, Euroleague Basketball has been fully dedicated to helping clubs bring the unique game of European basketball to fans by delivering the best experience possible each and every season.
As the newest marketing partner for Euroleague Basketball, HotelPlanner will deliver quality hotels for all games over the next two seasons at the lowest negotiated rates guaranteed. This collaboration reinforces the company's position as the leading group hotel sales provider, who has also experienced exponential growth since HotelPlanner's inception in 2002 specializing in group bookings across the globe.
"We are proud to partner with Euroleague Basketball," stated Tim Hentschel, CEO of HotelPlanner.com. "We believe this sponsorship is a perfect fit towards providing the best hotel reservation services possible to keep fans, players, and clubs near the game and close to all the action."
"Making travel plans more comfortable and more affordable for everyone attending Euroleague and Eurocup games means added value for the game experience, so we are delighted to have an industry leader like HotelPlanner.com as our partner," Roser Queralto, Chief Business Development Officer at Euroleague Basketball, said.
HotelPlanner.com's dedicated link https://euroleague.hotelplanner.com/ will be available for fans and associates of Euroleague Basketball to take advantage of hotel accommodations, not only for basketball competitions, but also when travelling on holidays, for business, family celebrations, and more.
About Euroleague Basketball
A global leader in sports management, Euroleague Basketball develops and organizes elite competitions, sporting events, corporate social responsibility programs and educational initiatives. Founded in 2000 under a breakthrough private organizational model for European professional team sports, Euroleague Basketball manages the continent's two premier men's basketball competitions, the Turkish Airlines Euroleague and the Eurocup, as well the sport's premier under-18 showcase, the ADIDAS NEXT GENERATION TOURNAMENT. Both the men's and junior European champions are crowned each spring at world basketball's signature weekend event, the Turkish Airlines Euroleague Final Four. For aspirants to careers in sports management, the Euroleague Basketball Institute offers the expertise of industry leaders through seminars, clinics, summits and a certified master's degree program. Most recently, Euroleague Basketball launched the groundbreaking corporate social responsibility program One Team, which unites 32 of its own clubs and world-renowned partners to support at-risk communities in 14 countries through grass-roots activities that have reached more than 10,000 participants to date.
About HotelPlanner
HotelPlanner.com provides group hotel booking services to 2,000 groups per day in the global group travel market. The company's group hotel booking service ensures the lowest rates by allowing customers to receive quotes online directly from hotel group sales managers. HotelPlanner allows customers to book hotels for business meetings, conferences, conventions, family reunions, weddings, extended stays, tours, military reunions, church events, and group travels. The company also provides mobile applications for booking group hotel reservations. The company owns and operates Meetings.com, a site that provides information, planning and booking services for group, meeting, and individual hotel stays for the corporate, associations and business to business enterprises. With a mission statement geared towards, "Bringing People Together," HotelPlanner & Meetings.com are the global experts for hotel sourcing, providing direct clients and market leading affiliates with unmatched group and event discounted room rates plus localized service levels not available at other travel companies. Founded in 2002, the company has offices in London, England, (European Headquarters), Hong Kong (Asia Headquarters), West Palm Beach, FL (USA Headquarters), and Las Vegas, Nevada.
HotelPlanner.com is proud to provide hotel reservation services to the following valued clients within the sports team and university, corporate, and government organizations. The company's Pro Sports Team clients most notably include Matchroom Sport, the San Diego Chargers, Washington Redskins, St. Louis Rams, Professional Bowlers Association, European Professional Golfers (EuroPro), Super League (Rugby), AFC Wimbledon, Millwall F.C., and Queens Park Rangers F.C. In terms of college travel, Universities such as Texas A&M, New Mexico State, Saint Mary's College, Bradley University, University of Reno-Nevada, University of Illinois-Chicago, Northeastern University, Cal Poly, and California State University Northridge use HotelPlanner to negotiate their group travel and recruiting stays. Corporations such as CROMPCO, Siemens, Jackson Motor Sports, National Grid, Chicago Bridge & Iron, Publix, and Servpro and Government clients such as the State of Louisiana, State of Mississippi, Government Services Agency, US Marines-Camp Le Jeune (Group), and US Communities also utilize HotelPlanner.com as their hotel procurement provider to negotiate hotel rates, book hotel reservations and provide excellent service year-round.