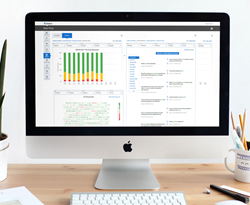 "We train our learning algorithms from the ground up on the data that matters most to companies. This allows our technology to provide a more precise analysis about what customers are saying."
Sunnyvale, CA (PRWEB) April 13, 2016
BirdEye, the next generation CX and business reputation platform, has expanded their Natural Language Processing (NLP) and machine learning algorithms for businesses to understand what customers are saying — now on all channels (surveys, review sites, social media), including their competitors'.
For years, businesses have been able to run NLP on internal surveys to drive business insights. BirdEye has revolutionized the capabilities of NLP by expanding it to all channels of customer feedback - review sites, social media, and Net Promoter surveys. Many large enterprises have implemented BirdEye's platform to understand their customers' conversations from mystery shopping, NPS surveys, social media and online review sites with equal accuracy, all in one place.
Furthermore, the BirdEye platform now runs NLP on competitive data so businesses can capture deep insights from their competitors' customer feedback. Hertz Rent-A-Car, one of Birdeye's platform adopters, can use BirdEye's extensive intel to determine if their check-in wait time is too long at their San Francisco location, and also how it compares to wait times at Avis or Enterprise. This informed sense of their competitors' customer experience and sentiments can provide an invaluable strategic advantage.
To ensure accuracy and adaptability, BirdEye has integrated its NLP system with the latest machine learning technology. Many companies strictly use machine learning as a black-box technology without understanding the type of data it was designed to process, resulting in misguided, inaccurate predictions. These black-box machine learning technologies can struggle on unstructured, unpredictable customer reviews that differ from past data patterns. BirdEye has instead built custom machine learners for the channels that matter to businesses.
By combining the latest machine learning technology with modern linguistic insights, BirdEye has pioneered a uniquely intelligent platform with the ability to identify crucial new trends and topics in the customer base that traditional analytics misses. "We train our learning algorithms from the ground up on the data that matters most to companies. This allows our technology to provide a more precise analysis about what customers are saying," says Nate Chambers, Chief NLP Scientist for BirdEye.
"Our goal is to unlock the full potential of NLP and machine learning for businesses. At BirdEye, we are continuously processing large volume of customer feedback for businesses and their competitors. We are analyzing both structured and unstructured content to identify rich snippets that convey customer's overall sentiment. We provide such valuable insights to businesses in real-time so that they can incorporate and enhance their customer experience." says Ameya Virkar, VP Engineering at BirdEye.
About BirdEye
BirdEye is a SaaS platform reimagining the way customer feedback is used to acquire and retain connected customers by closing the loop between business reputation and customer experience. The BirdEye platform captures real-time customer feedback, ratings and sentiment across every channel -- review sites, social media, and surveys. With BirdEye's tools, businesses can engage in every step of the customer journey, establish a positive online presence, and benchmark performance across locations and against competitors. In today's reputation economy, BirdEye provides the eyes, ears and algorithms necessary to create a stand-out customer experience that pleases a digital consumer society reliant on instant gratification.
To see the BirdEye platform in action, visit birdeye.com/scan-business/.To learn more, go to birdeye.com or call toll-free #1-800-561-3357. Follow us on LinkedIn, Facebook and Twitter.
Contact
Helen Irias
pr(at)birdeye(dot)com
925-588-5647