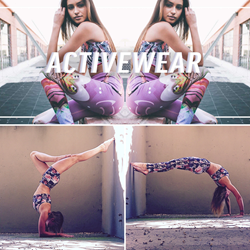 Los Angeles, CA (PRWEB) April 14, 2016
Yoshirt today announces the launch of its new activewear line. The Yoshirt platform now allows users to customize and purchase fitness apparel with patterns, stickers, photographs and text that reflects their personalities and tastes. New activewear items include women's yoga pants, yoga shorts, tank tops and sports bras, as well as men's athletic tank tops and shorts.
As part of the launch, the company is partnering with artists and influencers, who will get their own activewear lines powered by Yoshirt. Talent collective Hell Yes Agency is connecting Yoshirt with Instagram influencers to show off their activewear collection. "We partner with brands that are creative and unique. Brands that inspire us. Yoshirt inspires us," said Pat Bailey, founder of Hell Yes Agency.
Fashion-conscious users can design original apparel with the Yoshirt app in mere moments. To begin, users choose from a list of apparel and accessories, including things like activewear, t-shirts, tote bags, and iPhone cases. Users may choose to upload a photo, or take one directly within the app, as well as choose a pattern, or add text and stickers to create a one-of-a-kind item. Check out within the app is powered by Apple Pay, providing customers with a seamless user experience from start to finish.
According to a Piper Jaffray survey on teen spending, activewear is more popular than jeans among the group. In fact wearing athletic gear outside of the gym has become such a popular trend, that even Levi's had admitted they feel threatened. The Yoshirt activewear launch will appeal to not only workout enthusiasts, but also people wanting to stay comfortable outside the gym.
"Activewear has become really popular in the past few years. Everyone is wearing it, but there's always that worry of following the crowd too closely when it comes to fashion." said Ben Williamson, CEO and founder of Yoshirt. "Yoshirt lets you be creative and design original activewear that absolutely no one else is going to have. Plus, using your favorite photos to design leggings is just plain fun."
--
About Yoshirt
Yoshirt is the leading mobile platform for custom, on-demand apparel. With their elegant user experience, one-touch checkout powered by Apple Pay and innovative supply chain, Yoshirt offers users unique, premium apparel at incredible prices. Browse the new Yoshirt activewear line here, or download the app for free at the App Store to create your own.