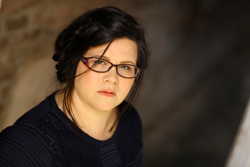 Mahoney said, "I'm so thrilled to be a part of this amazing cast and play such an iconic role. I'm grateful to CMT for giving me such a tremendous opportunity to be a part of this show."
Washington, DC (PRWEB) April 12, 2016
Ann Mahoney who plays "Olivia" on one of televisions hottest shows, "The Walking Dead", has been cast as "Gladys Presley", Elvis Presley's mother, in the new television series "Million Dollar Quartet". Mahoney said, "I'm so thrilled to be a part of this amazing cast and play such an iconic role. I'm grateful to CMT for giving me such a tremendous opportunity to be a part of this show."
Gladys Presley has been described as a very protective mother so protective that she was known to beat up other kids if they were trying to hurt Elvis. Gladys walked Elvis to school until his mid-teen years and only stopped when Elvis protested. It was Gladys who was the disciplinarian in the family and the person who made sure Elvis knew he was something special. In turn, Elvis promised his mother he would take care of her when he became famous and by all accounts he lived up to his word.
"Million Dollar Quartet" began filming in the beginning of April in Memphis and is scheduled to debut in early November. It is timed to correspond with the 60th anniversary of the famous recoding sessions with icons Elvis Presley, Johnny Cash, Jerry Lee Lewis, and Carl Perkins.
Ann Mahoney grew up in New Orleans, Louisiana. She received her BA in Theatre Arts from Greensboro College North Carolina and then obtained her M.F.A. in Acting from the University of Connecticut-Storrs in 2001. Ann has been cast in the award-winning show, RECTIFY, as well as the top rated show THE WALKING DEAD. Mahoney has a new film coming out in 2016 called SAME KIND OF DIFFERENT AS ME. The actress is also known for her roles in films such as 99 HOMES, BIG MAMA'S HOUSE 2, BAREFOOT, and FRAKENSTEIN. For more information about Ann Mahoney please email Tracie(at)ovationpr(dot)net.