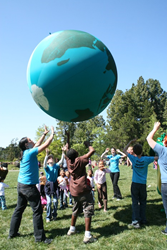 "Earth Day has been celebrated for forty-five years and in nearly 200 countries and Oakland Zoo joins in the celebration by producing one of the largest Earth Day events in the East Bay - Amy Gotliffe, Director of Conservation
Oakland, CA (PRWEB) April 12, 2016
Oakland Zoo's Earth Day event is once again sponsored by Taiwan Tourism, the Heart of Asia and will include animal presentations, flying trapeze demonstrations by Trapeze Arts of West Oakland, a giant earth ball game, animal trivia, and two live concerts by Asheba. Additional highlights include making beaded necklaces that help people and chimpanzees in Africa, signing thank you notes to people who help animals across the world, and creating beautiful chalk art that illustrates our love of animals. Guests may donate an old cell phone for a free train ride. Recycling your cell phone helps conserve the habitat of great apes in Africa.
Entertainment aside, this day-long event is an opportunity for families to connect with nature and their favorite animals. Action for Wildlife is at the heart of Oakland Zoo's conservation efforts. Find out how everyone can take action to help wildlife around the planet.
All ages are welcome for a day of interactive learning and animal inspired fun. The 2016 Earth Day event at Oakland Zoo is included with regular Zoo admission ($13.75 for children/seniors; $17.75 for adults; parking $8.00). Bring a used ink cartridge or cell phone to recycle and receive a free train ride.
Earth Day 2016 Schedule of Activities:
Clorox Wildlife Theater (Located in Children's Zoo)
11:00am: Live Concert by Asheba
11:45am: Live Animal Encounters with Oakland Zoo docents
12:45pm: Live Concert by Asheba
1:30pm: Live Animal Encounters with Oakland Zoo docents
Adventures in the Meadow
11:30am: Giant Earth Ball for Little Kids
12:00pm: Wild Trapeze show with Trapeze Arts
1:30pm: Giant Earth Ball for Big Kids
2:00pm: Wild Trapeze show with Trapeze Arts
Oakland Zoo is thrilled to welcome the following organizations to Earth Day:
1. 96 Elephants
2. Act for Great Apes
3. Africa Matters
4. Amboseli Trust for Elephants
5. Animal Rescue Foundation
6. Asheba Music
7. Bay Area Air Quality Management
8. Bay Area Puma Project
9. BEAR League
10. Big Life
11. Budongo Snare Removal Project
12. California Department of Fish and Wildlife
13. California Trail
14. California Wolf Center
15. CentreValBio
16. City Slicker Farms
17. Drawing on Earth Chalk Art
18. EAST BAY MUD
19. East Bay SPCA
20. Ecoloblue
21. EWASO Lions
22. Farm Fresh to You
23. Golden Gate Audubon Society
24. Institute of the Commons
25. Kaminando Connectivity Initiative
26. Kids for the Bay
27. Marshalls Farm Honey
28. Mickaboo Companion Bird Rescue
29. Mountain Yellow Legged Frog Project
30. Oakland Zoo Education
31. Oakland Zoo Membership
32. Performing Animal Welfare Society
33. Project Coyote
34. Renewal By Anderson
35. Reticulated Giraffe Project
36. Rising Sun Energy Center
37. Snow Leopard Conservancy
38. SolarCity
39. Stopwaste
40. Sulfur Creek Nature Center
41. Taiwan Tourism Bureau
42. Test Prep San Francisco
43. The Center for Oceanic Awareness, Research and Education
44. Trapeze Arts
45. Uganda Carnivore Program
46. US Fish and Wildlife Services
47. Ventana Wildlife Society
48. Western Pond Turtle Project
49. Wild Equity Institute
50. WildAid
51. ZooCamp at Oakland Zoo
ABOUT OAKLAND ZOO:
The Bay Area's award-winning Oakland Zoo is home to more than 660 native and exotic animals. The Zoo offers many educational programs and kid's activities perfect for science field trips, family day trips and exciting birthday parties. Oakland Zoo is dedicated to the humane treatment of animals and wildlife conservation onsite and worldwide; with 25¢ from each ticket donated to support conservation partners and programs around the world. The California Trail, a transformational project that more than doubles our size, opens in 2018, and will further our commitment to animal care, education, and conservation with a focus on this state's remarkable native wildlife. Nestled in the Oakland Hills, in 500-acre Knowland Park, the Zoo is located at 9777 Golf Links Road, off Highway 580. The East Bay Zoological Society (Oakland Zoo) is a nonprofit 501(c)3 organization supported in part by members, contributions, the City of Oakland and the East Bay Regional Parks. For more information, go to: http://www.oaklandzoo.org