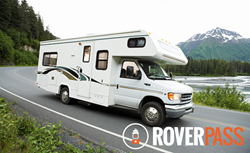 After recruiting over 14,000 parks and campsites, RoverPass is ready to launch in full force.
Austin, Texas (PRWEB) April 13, 2016
Austin startup, RoverPass, introduces new booking and reservation technology to the RV camping and travel industry with a mission of making outdoor recreation easier for everyone.
In January 2016, RoverPass launched the first of its kind RV park and campsite online booking service for RVers and campers nationwide. Founded in 2014, RoverPass was focused on growing their database of RV parks campgrounds. Now after recruiting over 14,000 parks, RoverPass is ready to launch in full force as they gear up for the 2016 camping season.
RoverPass technology allows travelers to find, compare and book campsites across the nation in a few clicks and from one place. The technology supports filtered searches based on a person's campsite preferences: amenities, activities, location. Users can also post reviews and pictures, favorite certain campsites, and get discounted pricing with the RoverPass Discount Club.
RoverPass was founded by veteran entrepreneurs and co-founders Ravi Parikh, Paul Cross and Jay Manickam. The trio started the company after realizing how difficult it was to find and reserve their own campsites during a trip to Coachella Music Festival in 2012.
After realizing the need for campsite booking technology, they discovered an opportunity also existed within the RV and camper industry. RVs and campers have been steadily rising in popularity over the past several years, with Airstream sales increasing over 26-percent and RV sales increasing over 11-percent in the last year.
Now with a full database of RV campsites and with fluid and user-friendly technology, RoverPass is positioned to launch the RV industry into the future.
"We have to educate and explain how technology can revolutionize the way this industry has operated for a long time," Parikh, CEO, says.
On the backend, RoverPass allows RV parks to customize their pages and rank in searches.
Claim your RV Park page or sign up to book your next stay: roverpass.com