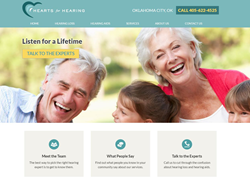 Oklahoma City, OK (PRWEB) April 12, 2016
Hearts for Hearing, a full-service audiology practice located in Oklahoma City, is proud to announce the launch of its new website, http://www.heartsforhearingaids.org.
According to the Hearing Loss Association of America, hearing loss is a major public health issue and the third most common physical condition after arthritis and heart disease. Through the new website, Hearts for Hearing hopes to raise awareness of this serious public health issue and to provide useful information for anyone seeking to improve their hearing.
The new website will make it easier for patients to learn all about hearing loss, including its causes, types, and prevention. In addition, patients can take a brief online hearing quiz to quickly test for hearing loss and can find additional information on how to help loved ones with their hearing loss.
The hearing aids section of the website helps patients to learn about hearing aid styles, features, prices, batteries, accessories, and the process of selecting the right hearing aid based on needs and lifestyle considerations.
Together, the sections on hearing loss and hearing aids provide the patient with all of the information they'll need for a productive and stress-free first visit, including tips on how to prepare for the appointment, what to expect from testing, how hearing aids are fitted, and what to expect from follow-up care.
In addition, the website includes a hearing tips blog, offering expert articles on hearing loss, tips for better hearing, and the latest developments in hearing aid technology. Hearts for Hearing's Facebook page can also be accessed from the website, where patients can find additional fun and informative content.
About Hearts for Hearing
Hearts for Hearing is a full-service audiology practice located in Oklahoma City, OK. The practice offers comprehensive hearing care services to help members of the local community hear better, live better, and reconnect with loved ones.
Contact:
Rachel A. Magann Faivre, Au.D.
Hearts for Hearing
405-622-4525
http://www.heartsforhearingaids.org