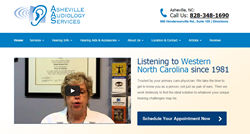 (PRWEB) April 12, 2016
Tinnitus is a condition characterized by the perception of sound that is not present in the environment. It is often the result of damage to the auditory system, and the individual will often hear a constant ringing, whooshing, hissing, or whistling in the ear.
As of yet there is no cure for tinnitus, and many patients believe it is a condition that they "just have to live with." But while there is no cure, there are several treatment options that have been proven to be effective. One option in particular, called sound therapy, has been shown to be particularly effective.
Sound therapy uses sound or music to mask the tinnitus, in some cases training the brain to perceive the sounds of tinnitus as unimportant, thereby abating symptoms. But not just any sound will do: the sounds must be of a certain quality and must match the patient's tinnitus.
The Serenade sound therapy solution by SoundCure accomplishes this with customized, proprietary sounds called S-Tones. Research suggests that these S-Tone sounds may address the underlying neurological cause of tinnitus.
The Serenade tinnitus treatment system consists of a handheld device and earphones, and is small, portable, and easy to use. The system includes various sound tracks, including the S-Tones, and the sounds can be customized to the patient's tinnitus for best results.
Other features include Sleep Assist to help patients sleep better at night and independent right and left volume controls for maximum flexibility and comfort.
For more information, visit SoundCure Serenade at ashevilleaudiology.com.
About Asheville Audiology Services
Asheville Audiology Services is a full-service audiology practice located in Asheville, North Carolina. The practice offers comprehensive hearing care services to help members of the local community hear better, live better, and reconnect with loved ones.
Contact:
Cynthia B. Earle, Au.D.
Asheville Audiology Services
(828) 348-1690
http://www.ashevilleaudiology.com