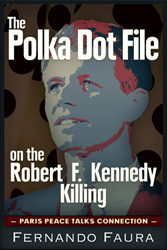 The Polka Dot File is a gem in the field of RFK assassination research.…Read it and learn. – Jim Douglass, author, JFK and the Unspeakable
Walterville, Oregon (PRWEB) April 13, 2016
The Polka Dot File on the Robert F. Kennedy Killing describes the day-to-day chase for the mystery woman in the polka-dot dress. The book comments on but does not dwell on the police investigation, and reads like a detective thriller instead of an academic analysis of the investigation. The Polka Dot File incorporates actual tapes made by an important witness, and introduces the testimony of witnesses not covered in other books. The Polka Dot File is a completely new take on the assassination and the motives behind it, and introduces a new theory for the reasons behind the assassination, Original and highly personal, reaching a startling and different conclusion not exposed by other books.
"The Polka Dot File is a gem in the field of RFK assassination research. As an LA-based reporter, Fernando Faura was pursuing key witnesses and gathering evidence in the early hours of the case. He did his groundbreaking work despite constant interference by the LAPD and FBI. Now almost a half-century later, Faura is back with this step-by-step, eye-opening description of his work and where it led. Read it and learn."
-Jim Douglass, author, JFK and the Unspeakable
Fernando Faura was born in Puerto Rico, and graduated cum laude with a degree in journalism from the California State University, Northridge. Early in his career he was correspondent for Millionaire Magazine and Diario de la Tarde, Mexico City's largest daily newspaper. In 1967 he joined the Hollywood Citizens News and began a front-page series of articles exposing large scale Medi-Cal/Medicare abuses. For this he was nominated a Pulitzer Prize. The 1968 presidential campaign saw him tour the country as press director and advance man for presidential candidate Vice President Hubert Humphrey. Returning to the Hollywood Citizens News Faura published two exposés that lead to an invitation to testify at U.S. Senate hearings. Fernando was won awards from the Press Club, the National Newspaper Publishers Association, three commendations from the Los Angles Board of Supervisors, and an award for "Outstanding Journalism" from the Hollywood Citizens News. He maintains residences in Cancun, MX, Florida and California.
Release Date: June 6, 2016
Category: History, Politics
248 pages - includes documents
ISBN-13: 9781634240598
$24.95 - Softcover
Author availability for interviews:
Contact: Julia Cox at (800) 556-2012 or julia(at)trineday.net
###