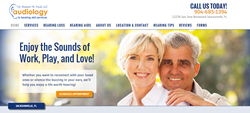 (PRWEB) April 12, 2016
Hearing loss can be frustrating for those affected, not only because of difficulty hearing but also because of the communication problems it creates with others. Hearing loss can be frustrating for both parties, and when hearing loss isn't disclosed, the potential for conflict increases.
That's why disclosure is a crucial part of coping with hearing loss, according to Dr. Rosann W. Faull, LLC. In a recently published article, titled How to Communicate Your Hearing Loss to Others, Dr. Faull provides tips on how to disclose hearing loss in productive ways.
First, full disclosure is usually best. People find more success when they summarize their hearing loss and provide tips for how others can best communicate with them, rather than simply stating that they can't hear.
Second, it's important for those with hearing loss to provide specific communication tips to others. When communicating with someone with hearing loss, it's best to get their attention before speaking, speaking face-to-face, maintaining a short distance, and carefully enunciating words.
Third, those with hearing loss can control their environment to enhance communication. From picking a quiet booth at a restaurant to eliminating background music at social gatherings, those with hearing loss give themselves the best chance of success. It's important to find quiet areas for conversations and those with hearing loss should never hesitate to approach the host before a party to discuss some special arrangements.
And finally, when hearing loss begins to negatively impact an individual's social life, they should seek professional help and consider the possibility of hearing aids. Hearing aids, especially the newer digital models, can enhance hearing and help restore social confidence.
About Dr. Rosann W. Faull, LLC
Dr. Rosann W. Faull, LLC is a full-service audiology practice located in Jacksonville, Florida. The practice offers comprehensive hearing care services to help members of the local community hear better, live better, and reconnect with loved ones.
Contact:
Dr. Rosann Faull
Dr. Rosann W. Faull, LLC
904-685-1394
http://www.drfaull.com