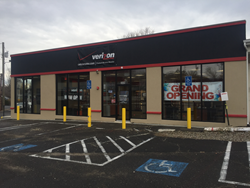 Southport is a fantastic location for Cellular Sales to grow.
FAIRFIELD, Conn. (PRWEB) April 13, 2016
Cellular Sales, the nation's largest premium Verizon Wireless retailer, has opened a new store in Connecticut's coastal enclave of Southport.
The new store is conveniently located at 3449 Post Road in Southport, which is part of the town of Fairfield, and it opened on March 9.
"Southport is a fantastic location for Cellular Sales to grow," said Nichole Torchio, Regional Director for Cellular Sales.
Being located near its customers is important to Cellular Sales. With more than 550 locations nationwide, the premium Verizon Wireless retailer has made access to quality customer care and premium phone service extremely convenient, setting it apart from its competitors.
"Our new storefront is just a short walk away from the local neighborhoods," Torchio said. "Customers can come by any time. Our sales associates are always eager to help them with whatever they might need."
Since its establishment in 1993, Cellular Sales has staked its reputation on providing the highest caliber of customer service and selection of mobile devices.
Those interested in applying for employment opportunities at the Southport Cellular Sales location can visit joincellularsales.com to view current job openings. Those interested in applying can contact Cellular Sales Regional Director John Stevens at 603-759-9591.
About Cellular Sales
Headquartered in Knoxville, Tenn., Cellular Sales was founded in 1993 and has been named by Inc. Magazine as one of the nation's fastest-growing privately owned retailers for seven of the past eight years. The company currently employs nearly 4,500 people and operates approximately 550 stores nationwide. Job seekers may visit joincellularsales.com. For more information on the company, visit cellularsales.com.
# # #