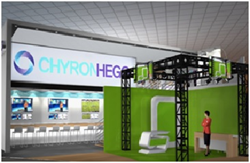 (PRWEB) April 13, 2016
Award-Winning, Bold Design
The Design Team at FX Design Group has been honored with the industry's most prestigious awards for their creative yet functional sets. Whether it's Real or Virtual, FX sets will combine eye-catching, brand-centric design with practical and helpful storytelling tools that make viewers take notice. The FX Design Studio delivers scenic solutions that not only look great in every shot, but maximize ways to enhance the programming brand and provide exciting new storytelling options that grab viewers' attention and contribute to the quality of the content.
FX Design Group has partnered with ChyronHego and Hybrid to create a State of the Art Virtual Studio at Booth SL1210, presenting LIVE demonstrations of FX Design Group Virtual Set Designs, fully integrated with the Camio Universe.
Camio Universe is a producer driven, end-to-end workflow for News Production where anyone in the entire newsroom environment can create, control and play out a full newscast including Lyric broadcast graphics, Hybrid virtual studio & augmented graphics and Metacast weather graphics, all using a template based workflow.
In addition, producers and directors have full control of Camera Switching, Clip playback, audio and advanced video effects, all powered by the Vidigo Live Compositor and Playout Automation. As all functionality is made available from within the newsroom environment, in the hands of content producers, the result is a true producer driven, streamlined, yet extremely powerful end-to-end solution for news production.
A must see solution for maximizing technology and streamlining resources and workflow. This scenario narrows the gap between complex technology and the journalists who are doing the actual storytelling. With the Camio Universe, working with advanced virtual graphics and augmented reality is just as easy as fulfilling a lower third. Naturally, this streamlined workflow reduces operating expenses, but the template-based approach also gives journalists unprecedented control and flexibility over the graphic elements of their story.
# # #
About FX DESIGN GROUP:
FX Design Group is a design company delivering projects worldwide in broadcast for News, Talk Shows, Lifestyle, Sports and Entertainment programming. FX gives clients access to a complete compliment of set design, virtual design, motion graphic design and branding, fabrication and installation services, as well as lighting design and lighting gear – all from one source. The FX collaborative process focuses on creative synergy, versatility and logistical efficiencies to maximize clients' budgets, aesthetics and multi-functionality. To learn more about FX Design Group please visit http://www.fxgroup.tv.