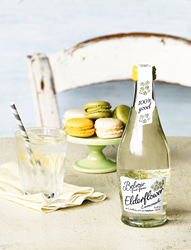 Visit the Belvoir table on your wayt to the New York International Bridal Week Show
(PRWEB) April 13, 2016
Make sure to visit the Belvoir Fruit Farms table on your way into the Show to sample a variety of delicious fruit drinks including our original Elderflower and Elderflower & Rose lemonades.
100% Natural – no additives or preservatives, gluten free, GMO free and Vegan - these new trendy lemonades are made with the finest ingredients and packaged in a lovely handcrafted glass bottle with a flowery label that will give a classic perfect elegant touch to any wedding or celebration.
About Belvoir Fruit Farms
Belvoir Fruit Farms launched its first lemonade in the US in 2011 and has grown successfully ever since. This range of refreshing alternatives to the traditional soft drinks offers also multiple opportunities as cocktail mixers.
Belvoir Fruit Farms is nested in the idyllic valley of Belvoir – Lincolnshire, UK – renowned for its castle estate where the family farm is located. It was just a fruit farms until Mary Manners, wife of founder Lord John Manners, started picking and infusing the elderflowers. Pressed, the fruits grown on the farms became syrup, which mixed with the spring running through the estate, blossomed into the lovely lemonades. Over the years, the family-owned company has produced a wider range of Belvoir flavors, carrying the same infusing, pressing and cooking processes of the fresh flowers, fruits and spices, blended with the local spring water.
About NY International Bridal Week
New York International Bridal Week at The Piers is the premiere Bridal trade show in New York City attracting the very best and brightest Bridal manufacturers from across the world. With over 260 exhibitors showing over 400 different lines,retailers can expect to find just what they are looking for from high end couture brands featured in our "Designer Gallery" to moderate marquee brands. The Piers encompasses a comprehensive array of exhibitors featuring Bridal, Special Occasion, Mother of the Bride, Bridesmaid and Flower Girls gowns as well as a vast assortment of Headpiece, Veil and Accessory vendors.