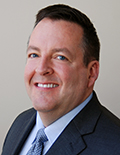 Todd's knowledge of the marketing research industry and talent for building business relationships will go far in growing our client base across core and emerging business verticals."
(PRWEB) April 13, 2016
Focus Pointe Global (FPG), a leading provider of marketing research data collection, is pleased to announce the appointment of Todd Napier to the position of Chief Business Development Officer (CBDO), effective March 28, 2016. Mr. Napier will coordinate strategic sales planning, program development and national account development across all of FPG's business sectors.
"Todd has a long track record in sales, marketing and business development, with broad experience creating and managing all phases of the sales cycle," explains Laura Livers, Focus Pointe Global's Chief Executive Officer, "his knowledge of the industry and talent for building business relationships will go far in growing our client base across core and emerging business verticals."
Todd has more than 25 years in the research industry with experience spanning a broad mix of client and supplier-side business verticals. Immediately prior to joining the executive leadership team at FPG, Todd guided strategy for the $3.2B brand portfolio of Buffalo Wild Wings as VP, Insights & Analytics. TNS North America, Parker Marketing, Burke, and Alliance Research are also a part of Todd's professional portfolio, as well as leading his own company, Penway Consulting Group.
"I am thrilled to join the Focus Pointe Global family," Napier comments. "In partnership with my colleagues, I look forward to leveraging our array of research tools for the benefit of our client partners, identifying near- and long-term industry and client needs, and partnering with other industry providers."
Todd earned his Bachelors of Arts from the University of Evansville, Evansville, IN.
About Focus Pointe Global
Focus Pointe Global is a marketing research company with data collection services that include a wide range of in-person and online methodologies. Our purpose is to help companies make better decisions about the products and services they bring to market. We own and operate 18 focus group facilities located strategically in major markets across the United States and are considered a leader in the qualitative and quantitative marketing research data collection space. Our goal is to provide our clients the highest level of quality service deliverables across every point of contact.
We recruit participants from our 1.5 million member national panel, which is used for both qualitative and quantitative research, and grows at a rate of 800+ per day.
For more information please visit http://www.focuspointeglobal.com.