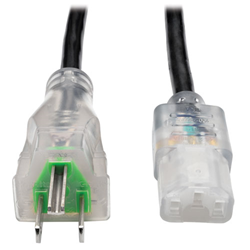 flexibility for connecting medical equipment... while meeting the stringent standards for compliance in a healthcare setting
Chicago, IL (PRWEB) April 14, 2016
Tripp Lite, a world-leading manufacturer of power protection and connectivity solutions, has added a new series of hospital-grade power cords to its line of solutions addressing the unique needs of the healthcare field, including power strips, surge protectors, uninterruptible power supply systems and isolation transformers.
The new hospital-grade power cords are designed specifically for connecting medical equipment, computers and accessories to grounded hospital-grade AC outlets in a healthcare setting. The cords themselves have hospital-grade plugs and meet standards for use in medical facilities to help protect patients and staff alike from shock hazards.
The cords come in a variety of lengths and are available with ratings of 10A, 13A and 15A to accommodate devices with a three-pin C14 port, including computers, printers, scanners and monitors. The line also includes cords with clear plugs for users who need or want to be able to inspect the integrity of the connections.
Key Features:
-- Designed to connect medical equipment, computers and other accessories to grounded hospital-grade AC outlets
-- Tested to ANSI/UL 62 and 817 and CAN/CSA C22.2 no. 21 and 49 to ensure safe, reliable power
-- Rated to 125V and amperages of 10A, 13A and 15A
-- Each cord features a C13 female connector on one end and a NEMA 5-15P-HG plug on the other
-- Available in lengths from 3 to 25 feet, including a model with an 8 ft. coiled cord that resists tangles and knots
"We're pleased to offer our healthcare customers another solution for safe, reliable power to prevent shock hazards," said David Posner, Tripp Lite's Director of Marketing for Cables and Connectivity. "This line of power cords gives healthcare facilities added flexibility for connecting medical equipment, computers and peripherals, while meeting the stringent standards for compliance in a healthcare setting."
For more information on the new power cords, visit: Tripp Lite Hospital-Grade Power Cords.
About Tripp Lite
Outstanding product reliability and exceptional service have been Tripp Lite trademarks for over 90 years. Tripp Lite's innovations include the world's first UPS system designed specifically for personal computers and the world's most trusted premium surge suppressor-the Isobar-with more than 19 million in use. Tripp Lite maintains the highest level of ready-to-ship inventory in the industry with more than 3,000 different products, including UPS systems, rack systems and cooling solutions, PDUs, PowerAlert software for enterprise-level system management and control, surge suppressors, KVM switches, cables and connectivity products, inverters, power strips and notebook accessories. Headquartered in Chicago, Illinois, Tripp Lite maintains a global presence with fully staffed offices worldwide. Additional information, including a list of Tripp Lite's sales offices and authorized reseller partners, can be found by visiting Tripp Lite's website: http://www.tripplite.com.