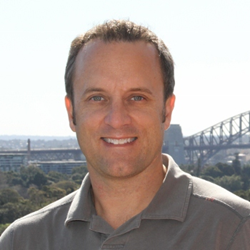 Washington, DC (PRWEB) April 14, 2016
SharePoint Fest DC to have Dan Holme deliver the second day keynote in which he will share what he's learned from organizations around the world. He pulls back the curtain on new capabilities of SharePoint and Office 365 and shines a real-world spotlight on what it means to be a customer of Microsoft in 2016 and beyond. You'll discover the importance of release cycles, flighting, minimum viable product, first release, rings, telemetry, and railed experiences—concepts you must consider to deliver effective and governed technology services to your customers.
About Dan Holme
With a career spanning more than 20 years, Dan Holme, a native of Colorado and graduate of Yale, earned a reputation as one of the world's most respected consultants, authors, thought leaders, and experts on Microsoft technologies. In April of 2016, Dan joined Microsoft as the Director of Product Marketing.
Dan is thrilled to be part of the brilliant and talented team committed to the future of SharePoint as the platform for collaboration and content management in the increasingly mobile-first world of connected workplaces, agile projects, and productivity at the speed of the cloud.
Prior to joining Microsoft, Dan was the co-founder of IT Unity, a media, events, and digital marketing company serving the Office 365 and SharePoint communities worldwide. As CEO, Dan helped to build IT Unity's strong brand, customer base, and reputation among users, partners, and experts around the globe.
Dan has trained and guided hundreds of thousands of IT professionals, executives, and users at almost every Fortune 100 enterprise, and more than half of the Fortune 500 and Global 1000. He has authored hundreds of articles for IT Unity and SharePointProMag.com, and numerous best-selling books for Microsoft Press.
For these contributions, Dan was awarded Microsoft MVP status for ten years across four technologies, named one of the top ten partner MVPs in the world, and recognized as one of the top influencers in the SharePoint and Office 365 community.
New to Seattle after ten years on Maui, Hawaii, Dan is passionate about nature, the performing arts, and the Olympic Games. Dan serves as the Microsoft Technologies Consultant for NBC Olympics for the broadcast of the 2016 Olympics in Rio, a role he has played in Sochi, London, Vancouver, Beijing and Torino.
About SharePoint Fest
SharePoint Fest is in its sixth year. It offers a two-day conference (with an optional workshop day) that brings together SharePoint enthusiasts and practitioners, with many of the leading SharePoint experts and solution providers in the country.
Attend SharePoint Fest DC where attendees will be able to attend workshops and seminars – taught by Microsoft Certified Trainers, Microsoft engineers, and Microsoft MCM's and MVPs – covering Enterprise Content Management, Implementation/Administration, Business Value, Search, Business Intelligence, Office 365 and SharePoint Development. Attendees will be able to choose one complete learning track or mix and match based on what content best meets their current needs.
At SharePoint Fest DC, there will be sessions created for SharePoint administrators, software developers, business analysts, information architects, and knowledge workers, which will ensure that attendees walk away with as much knowledge as they desire to truly leverage SharePoint in their current environment.
Website: http://www.sharepointfest.com/DC