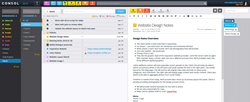 Being able to see the organization creates an information scent that makes it easy to find anything I've stored in Consol when I need it," said Consol Co-Founder Chevas Balloun
Fort Collins, CO (PRWEB) April 13, 2016
Consol is for users who spend their workdays on a computer switching between multiple productivity apps. It aims to remove this necessity by coalescing productivity functions, such as note taking, task management, bookmarking and more, into one framework.
"I was frustrated trying to keep track of all my clients' data with available tools," said Consol Co-Founder Chevas Balloun. "I was using a note taker, but kept having trouble finding my tasks or links within the notes. I'd try a task app, but felt like I never had room for extensive notes. Using multiple apps as a fix just seemed inefficient."
Users create their own organization with hashtags called workspaces (parent tags) and categories (child tags). This system, called Taggregation, adds hierarchy to project organization. Items can even belong to multiple workspaces and categories.
Different content types, such as notes, tasks and bookmarks appear in context in a list. This item list updates based on which workspace and category the user selects and the user's preferred sorting mechanism. Selecting an item in the list displays a page view where the user can add and edit content.
"Many productivity apps try to hide or minimize the organization in order to focus on the experience," said Balloun. "However, with a productivity app, the organization should be central to the experience. Being able to see the categories I've created, even when I'm not actively working in them, creates an information scent that makes it easy to retrieve anything I've stored in Consol when I need it."
At launch, Consol supports the following content types:

Notes
Tasks
Bookmarks
Code blocks
Contacts
Images uploaded from a computer or a URL
Messages between other Consol users
Connections can be made with other users allowing them to chat, comment, collaborate and send content to one another.
Consol also supports end-to-end encryption for notes, code blocks, and images. This requires a second encryption-specific password (ESP).
Consol is available now for $9 / month. End-to-end encryption can be added for another is $7 / month.
ABOUT CONSOL
Consol is a Fort Collins, CO-based bootstrapped startup founded by three brothers who have experience working for Microsoft, Google and Blackbaud and running their own businesses in the fields of design, development and law.