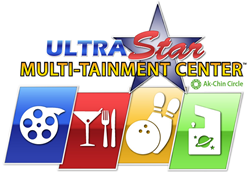 Maricopa, AZ (PRWEB) April 13, 2016
The 347 Grill at the UltraStar Multi-tainment Center at Ak-Chin Circle is welcoming moms from Maricopa and all over the Valley for a very special Mother's Day Brunch. 347 Grill will feature this special menu on Sunday, May 8th from 10 a.m. to 3 p.m.
Items on the menu include favorites such as smoked salmon, scrambled eggs with fresh mozzarella cheese and chives, Maplewood smoked bacon and sausage, biscuits and gravy, O'Brien potatoes, homemade waffles with berries and fresh whipped cream, carved roast beef with creamed horseradish and au jus, baked halibut with white wine and fresh herbs, breast of chicken marsala, wild rice pilaf, fresh broccoli with a balsamic glace, salad bar, fresh fruit, baked pastries, muffins and other select items. Guests can finish off brunch with an array of freshly baked pies and cakes.
The buffet-style event is open to everyone. The brunch price for adults is $21.95 ++, kids are $14.95 ++ and kids age 5 and under eat free. Reservations can be made by calling 520-233-2426.
For more information on the Mother's Day brunch and other special events, visit: http://www.UltraStarAZ.com
About UltraStar Multi-tainment Center at Ak-Chin Circle:
The UltraStar Multi-tainment Center at Ak-Chin Circle, an enterprise of the Ak-Chin Indian Community, is operated by California-based UltraStar Cinemas. UltraStar Cinemas is recognized for pioneering the digital age of cinema. They are the first theater group in the world to be fully equipped with Pure Digital Cinema® powered by DLP Cinema® technology in all of their locations. The UltraStar Multi-tainment Center at Ak-Chin Circle features "One stop, non-stop entertainment." Guests experience adventure, competition, entertainment and relaxation all conveniently located under one roof. The Multi-tainment Center features state-of-the-art digital theaters, bowling, dining, sports lounge, live entertainment, laser tag and arcade gaming as well as corporate and private event facilities. It is located at 16000 Maricopa Rd., Maricopa, AZ. http://www.ultrastarakchin.com
About Ak-Chin Indian Community:
The Ak-Chin Indian Community is nestled into the Santa Cruz Valley of Southern Arizona. The Community lies 35 miles south of Phoenix in the northwestern part of Pinal County. Ak-Chin is an O'odham word translated to mean "mouth of the wash" or "place where the wash loses itself in the sand or ground." Ak-Chin has an enrollment of more than 1,022 tribal members and a land base of just over 22,000 acres. The Ak-Chin Indian Community has a variety of business enterprises including Harrah's Ak-Chin Casino, Ak-Chin Southern Dunes Golf Club, UltraStar Multi-tainment Center at Ak-Chin Circle and Santa Cruz Commerce Center. For more information, visit http://www.ak-chin.nsn.us.
Media contact:
Christine Holtz
http://www.PhoenixMarketingAssociates.com
602-282-0202
XXX