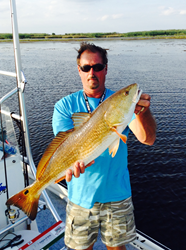 Houston, TX (PRWEB) April 13, 2016
FireDisc® grills are in a league of their own with innovative attributes spanning portability, counter height, surface temperature range, capacity and clean-up. However, can they be relied upon to perform in a range of remote outdoor weather conditions and rugged locales? Renowned pro fishing tour competitor, Lou Gasperin, has put the FireDisc® to the ultimate test throughout his astonishing line-up of tournaments where he consistently finishes in the top-ten. In addition to the grill-testing on tour, Gasperin has tested and relied upon the FireDisc® to excel in a multitude of challenging terrain ranging from fish-fry shoreline lunches, to remote campsite dinners, and to cook up restaurant-quality quail post-hunt, while standing in three feet of snow.
About Pro Sport Fisherman, Lou Gasperin:
Those closest to Lou Gasperin claim that this fishing legend was born, rod-in-hand. Licensed fishing guide, Captain and pro tour veteran, Gasperin's fishing career has taken him on hundreds of trips from the far reaches of Canada fishing for walleye, to the northeast fishing for stripers, cod fish and haddock. Currently, Gasperin's professional tours span the outer banks of North Carolina to the coast of Texas. Gasperin has competed in everything from the Ranger Boats and Cabelas-hosted tours, IFA Redfish Tour to FLW, the Lucas Oil Pro Tour and Oh Boy Oberto invitational. He has been sponsored by numerous pinnacle boat, sunscreen, bug spray and hot sauce brands. When not fishing – a rarity – Gasperin can be found bow hunting in Canada for Moose or Michigan for deer. He has hunted his way through just about every southern state since learning the ability to walk.
FireDisc® bravely partnered with Lou to put their grills to the ultimate Gasperin-test. Results are in.
Gasperin FireDisc® Product Test Overview:
Versatility: "Let me start by saying that the FireDisc is the most versatile grill ever designed in my opinion," says Lou Gasperin. "Whether hunting or fishing with the FireDisc, you can of course cook anything from steaks to burgers. The key difference is that this grill takes you way beyond beef. You can make soup, chili, pasta, eggs, bacon, or even a low country boil, grilled shrimp, fish with veggies – you name it, the possibilities are endless."
Portability: "The FireDisc is ridiculously portable, yet bullet-proof durable. The intelligent design enables an ease of use I have never experienced and greatly appreciate. Set-up takes mere seconds, even in some of the most challenging and remote locations one can imagine. Then, clean-up is a breeze. When fishing and hunting, every pound carried and inch of space needed for gear is meticulously planned. FireDiscs pack tight."
Durability: "FireDiscs don't die – ever. Scrap yards are full of old beater grills, but you'll never find a FireDisc. Mine is still going strong after more trips than one can count and I look forward to hundreds more. FireDiscs are the "Go Anywhere" Grill able to withstand the rigors of intense outdoor pursuits, variable weather and terrain. It will be the last grill you ever buy."
May 2016 National Hardware Show Meet and Greet, Las Vegas, NV:
Lou Gasperin, and his boat (kitted out with a FireDisc® Grill), will be on-site at the May 2016, National Hardware Show in Las Vegas to show off some of his best campsite cooking tips and share a few fishing and hunting tales.
About FireDisc®:
Texas-based FireDisc® specializes in the design and manufacturing of the world's most the innovative, high-quality and versatile outdoor grills and accessories. The company was founded by two entrepreneurial brothers, Griffin and Hunter Jaggard, who, armed with a makeshift tractor plow disc set out on a mission to build a grill worthy of everyone from the world's top chef's to hunters, backyard family grill masters, tailgaters and campers. FireDisc® products are currently sold nationally via 500+ retail locations in over 31 states and online throughout the globe.
Heavy-duty carbon steel construction render the grills indestructible, while meticulous designs yield convenient portability and ease-of-use. A rigorous "Chef-tested/Chef-Approved" quality assurance program enables the grills to deliver unmatched grilling characteristics, as they have been vetted by some of the world's leading chef's. Prior to their launch of FireDisc® Grills, the founders formed a non-profit to raise money and find a cure for Multiple Sclerosis. To date $1M has been raised via "The Carney Men" Bike MS team. Community involvement is the core of the FireDisc® brand in addition to the National MS Society they are proud supporters of the American Cancer Society, Wounded Warrior Project and many more.
For more information visit http://www.firediscgrills.com
Community Involvement: http://www.firediscgrills.com/company-involvement/
###