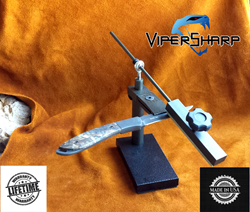 Hunting Knives and Kitchen Knives Sharpen With Ease
Eagle Mountain, UT (PRWEB) April 13, 2016
Vipersharp, which has launched a fundraising project on Indiegogo, offers an improvement to precision knife sharpening. It can help everyone get an edge on any knife from the kitchen to a pocket knife used in the woods. Its patent pending design was created with the goal to improve on other systems already on the market.
The rubber tipped clamps will hold any blade tight no matter the design and allow for a hair popping edge. The sharpening angle is fully adjustable using a cylinder design for the first time in the industry which allows adjustment to any angle desired. Whether cutting cardboard or sushi, this innovative system keeps blades sharp at the same angle every time.
As if the infinite adjusting post and the easy flip non marring clamp weren't cool enough, the impressive design doesn't end there. The handle that holds the stones in place allows an easy swap from one grit to the next in an instant.
From chefs to outdoorsmen to warehouse and office workers, this system will offer all an easy option to keep an edge in life. ViperSharp can handle knives from the common pocket knife to the prized santoku. In fact, it even allows for sharpening leather working round knives and chisels.
Creator Mike Wood stated, "ViperSharp users will be able to keep their knives sharp at any exact angle they desire. Everything they need to get good results is included in the kit. Even the base."
Where other systems have fallen short, the ViperSharp will stand out and offer great results. It is available on Indiegogo at a discounted price starting at $109 including shipping.
To learn more about this product, check out the ViperSharp campaign here