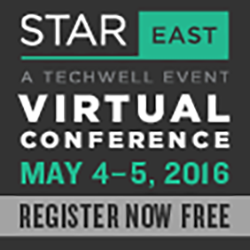 We are excited to host STAREAST Virtual 2016, the eighth virtual event held with the STAR conferences, which will bring our conference straight to the desktops and mobile devices of software testers across the world
Jacksonville, Florida (PRWEB) April 14, 2016
The STAREAST (Software Testing Analysis & Review East) Virtual Conference will be streaming live on May 4–5, 2016, from the Renaissance Orlando at SeaWorld® in Orlando, FL. The free virtual conference will focus on software testing and quality. Attendees can watch keynote presentations, industry technical presentations, and various speaker interviews as they are happening live. Plus, attendees will be able to visit the virtual Expo and learn about the most recent solutions from top industry providers.
This year's keynote speakers include renowned testing professionals: Keith Klain from Doran Jones, David Dang from Zenergy Technologies, TechWell's own Lee Copeland, Independent Consultant, Isabel Evans, and Dawn Haynes from PerfTestPlus, Inc.
Keynote presentations include topics such as Lessons Learned in (Selling) Software Testing, Open Source Test Automation: Riding the Second Wave, The Evolution of a Software Tester: From Novice to Practitioner, Telling Our Testing Stories, and Lightning Strikes the Keynotes.
"We are excited to host STAREAST Virtual 2016, the eighth virtual event held with the STAR conferences, which will bring our conference straight to the desktops and mobile devices of software testers across the world", said Alison Wade, TechWell President Conferences, Training and Consulting.
Visit https://stareast.techwell.com/program/free-virtual-conference for more information on the STAREAST Virtual Conference.
ABOUT TECHWELL CORPORATION:
TechWell—through its conferences, training, consulting, community websites, and online resources—helps people and organizations develop and deliver great software. For more information, visit http://www.techwell.com.